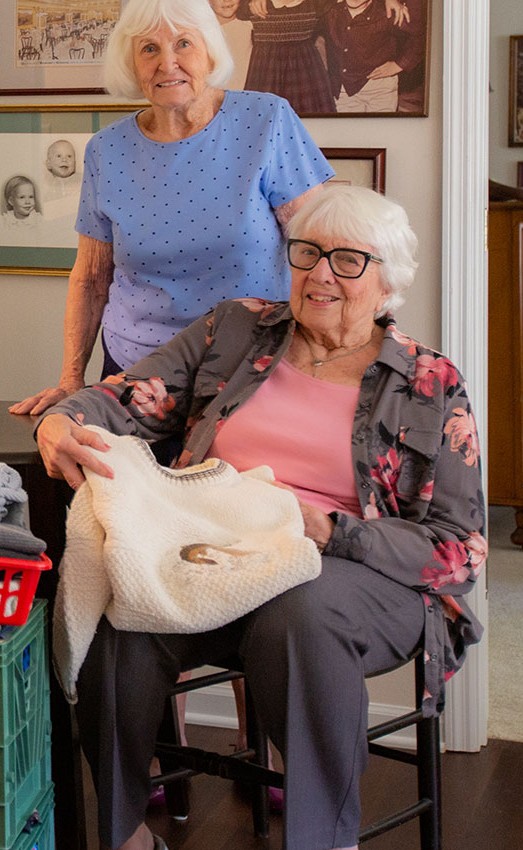 Gatesworth Stories —
The Season for Giving Back
Living a Fulfilled Life at The Gatesworth
Everyone has their own passions in life, and whether it's the arts, the movies or giving to charity, we all choose to spend our days a little differently. Life at The Gatesworth is no exception, where our Residents have the freedom to explore any hobby they choose.
Resident Anne Banet has recently taken to a new initiative within The Gatesworth community. For her, the past few months have been all about giving back.
"It started during tea one afternoon," Banet recalls. "I was talking to some friends about the refugees who are coming here with virtually nothing. After that conversation, we knew we wanted to help."
Banet, along with her friend Anne Henges, decided to start collecting winter clothes for refugees arriving in St. Louis. What may seem like a huge undertaking to some, falls right within Banet's wheelhouse. "I've always enjoyed helping others in my church and community. I think it's important to give back whenever possible."
They started small by collecting items from ten of their closest friends, and then word quickly spread. "The donations started pouring in from people we didn't even know. Our living rooms piled up with clothes, blankets and other items," Banet describes.
"It warms my heart to see how generous people can be," Banet said. "When it was time to bring our first load of donations to St. Patrick's Church, The Gatesworth even offered to help us deliver." 
"Thanks to the incredible staff here, we're able to keep this going," Banet explains. "They've provided amazing support and a dedicated space for us to collect more donations throughout the year." Banet plans to continue her charitable efforts for as long as she can.
The Gatesworth understands how important it is for Residents, like Banet, to continue doing what they love every day. With a wealth of amenities and renowned staff, we're here to support you in living your best life.