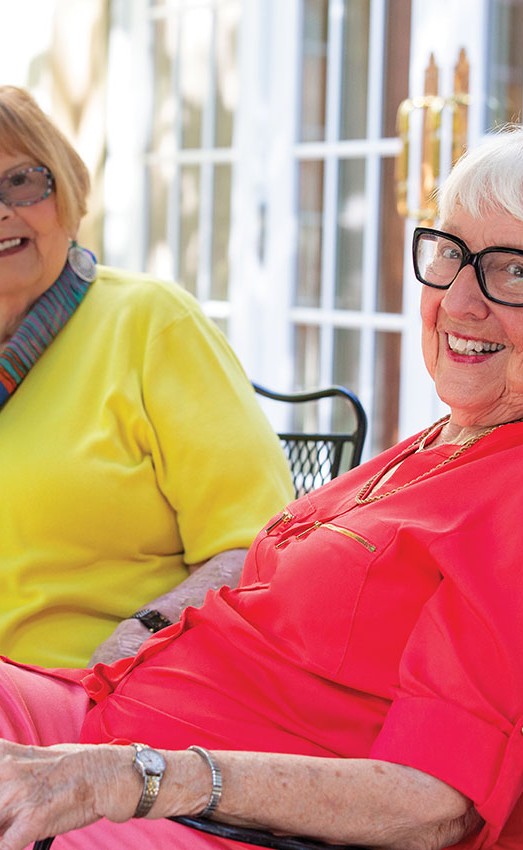 Gatesworth Stories —
Making a Home at The Gatesworth
Live Your Life with Comfort, Ease and Independence
Whether from another community or your longtime home, moving into a senior living community is a big change. With outstanding amenities and a wealth of activities, The Gatesworth strives to help residents feel perfectly at home in this chapter of their lives.
Residents Kathy Gorman and Anne Banet both came toThe Gatesworth in 2020, within months of each other. With different backgrounds and apprehensions, these fast friends have found The Gatesworth going above and beyond to make them comfortable and happy.
"I'll never forget my first visit," Gorman says. Coming from a retirement community in Celebration, Florida, the retired educator had been everywhere from Queens to San Francisco and planned a St. Louis move to be closer to her son and grandchildren. "It just looked like home," she recalls. "I got here and I knew this was it."
Like Gorman, Banet had worked as an educator and also moved to St. Louis to be near her son. On the other hand, she had lived in her hometown of New Albany, Indiana, up until her move to The Gatesworth and had been more reluctant to leave. "Kathy made sure I stayed [initially]," she confides. "We became friends and people tell us that we liven the place up. I'm happy to be here."
Although Gorman and Banet arrived during the COVID-19 pandemic, both were impressed with the number of activities The Gatesworth continued to host while safely observing social distancing and capacity limits. For residents who weren't familiar with the teleconferencing software program Zoom, the program director would visit apartments and help set the technology up so that everyone could have the same experiences.
"The lectures here are very good," Banet says. "There are art classes and mindful coloring – which is good for mental health, and you meet the nicest people."
On top of that, The Gatesworth hosts live music three times a week, a monthly book club and afternoon tea every day but Sunday. Residents can enjoy everything from games of bridge to water aerobics. The two women agree that, with all of the activities available, there's never a dull moment. 
Gorman adds that her experience with moving in was particularly exceptional. "I wanted an apartment that looked exactly like my space in Florida," she says. "[Before moving,] I got a call from one of The Gatesworth's owners, David Smith; he wanted to know my model number, and he worked to make my apartment into the one I had lived in before. I was so touched that they wanted to make me feel welcome."
Another way The Gatesworth helped both women feel at home was the way that the staff was immediately welcoming and accommodating, going above and beyond to befriend residents personally.
"The staff memorize your name and use it every time," Banet says.
Gorman agrees: "They're so willing to answer questions. They do so much for us, even something like coming to my apartment to get something off a high shelf or to get a lid open." During the height of COVID-19, residents could also call The Gatesworth's gift shop and place an order that the concierge service would deliver.
The beautiful surroundings also won both women's hearts, with multiple gardens and paths to walk. The afternoon tea, taken on the patio outside the dining room, is something both consider to be one of their favorite parts of their new home. "It began with a small group of us, and it's grown since then," Banet says. "It was very important to continue making friends."
The Gatesworth understands the challenges and concerns of moving to a new place and has made it a priority to make this a move not simply to a senior living community but to a place that allows you to live your life with comfort, ease and independence – a place you can call home.
Text based on an interview by Maggie Peters in Ladue News