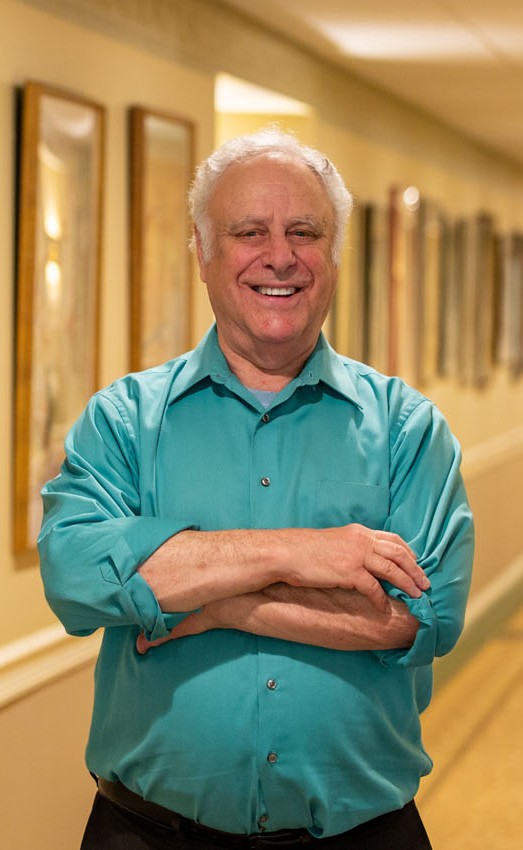 Gatesworth Stories —
John Lesser
John has attended more than 1,300 opera performances.
Some of us find meaning and purpose in life when we're pretty young, then avidly and doggedly pursue that path to the desired conclusion. Others take a more circuitous route, turning left then right, then backtracking and starting over. There's no right or wrong way to discover and pursue one's passion — and for some, the journey itself is the point. 
There are also those who map route and follow the trail but take every opportunity to discover the scenic byways and turnouts when they appear. John Lesser — art collector, opera fan, teacher and community benefactor – is one of these. 
Lesser says that he was the kind of kid that drew and painted every chance he had. It seems he was born with some innate need to work out his thoughts through making art. Given what we know about the power of nature and of nurture, it's not surprising to learn that Lesser's grandmother was drawn to art, too, and expressed her passion through the works she collected. Lesser remembers afternoons spent wandering through his grandmother's stack of art books, absorbing the pictures he discovered and letting them inform his imagination.
Art and opera: Lesser held on to both of these early discoveries, letting them help determine his path. He bought his first piece of art when he was 13. A few years later, after receiving a recording of the opera "Medea" from his grandmother's friend, he realized that one album wasn't enough. The next day, he quadrupled his collection. And the day after that, it grew again. 
The "Medea" recording, featuring the famous Maria Callas, was in Italian, which Lesser didn't understand. But he did recognize that what really spoke to him "was the sound and the voice. I couldn't get enough." In the ten years that followed this realization, he listened to opera every day. "I tend to go all-in when something interests me," Lesser admits.
Education and Beyond
Lesser pursued a degree in art history from Washington University in St. Louis. While a student there, he was also a teacher at The Wilson School, where he was the art instructor for grade-school children. And because he knew the power art has to transform, he included field trips to the Saint Louis Art Museum in his curriculum — and made sure there were plenty of art books in the classroom for kids to leaf through.
While a graduate student, Lesser worked in Washington University's Steinberg Hall Gallery as a director. And he became a collector. Some of the benefits of working in an art gallery arrived in the mail in the form of art catalogs, sent to Steinberg from American and international galleries and art institutions. Lesser remembers the receipt of one particular catalog, from Paris, as a defining moment. "There was a reproduction of an opera poster I had never heard of," Lesser says. "I had to have it, and that was the beginning."
Opera and art: Lesser had found a way to connect his passions. "I love opera, and I love the graphic arts," he says. It makes sense that Lesser became an avid collector of opera posters, a pursuit that has allowed him to stay close to art and music, the two things he grew to love thanks to a woman with the desire to share with her grandson the things that mattered to her.
Passion Personified
Despite his avid interest, Lesser had managed to see just a few live performances of operas by the time he was a young adult. In 1976, that changed. Though he was grieving the loss of his mother at that time, he accepted an invitation from a friend: Let's go see the opening-night performance at the brand-new Opera Theatre of Saint Louis. "I didn't want to go because I had been so sad," Lesser remembers, "but afterward, I felt so good."
Reminiscent of those early purchases of opera recordings, Lesser bought a ticket to the next night's performance and then the next. He ended up seeing all the operas performed in that first season. "The next year, I bought tickets for every performance of that season, and I haven't missed a performance since then." That adds up to 44 seasons and more than 1,300 performances. 
When Opera Theatre celebrated its 1001st performance in 2012, Lesser was there, by then a good friend to singers, crew, creative staff and administrators. General director Tim O'Leary sang a song for Lesser to acknowledge an enthusiastic and loyal friend of opera.
In the years he's supported and celebrated his beloved Opera Theatre, he's also been an evangelist of sorts. "I still love helping people learn new things," Lesser says, which is why he often uses one of his season tickets to introduce a friend or acquaintance to an experience he continues to find essential. Lesser has also taught opera-appreciation classes through Washington University's Osher Lifelong Learning Institute, also known as OLLI. 
Lesser's career includes his role as curator for the Missouri Historical Society and his leadership work in the art gallery at the Jewish Community Center, where he also organized an annual used book festival. In the 1960s, Lesser worked at a local needlepoint shop – owned by his mother and a friend – where he designed needlepoint canvases, including one of Maria Callas for himself.
Building on the Past
Today, Lesser lives at The Gatesworth, a St. Louis community designed to offer experiences and ambiance to complement the vital lives older adults pursue. He remains an enthusiastic collector of opera posters, but also supports local artists and collects their work —most often, and true to character, buying more than one. His poster collection now includes about 1,000 examples of that art form, many of which hang at the City Museum, Opera Theatre of Saint Louis and OLLI. Lesser's apartment at The Gatesworth includes just a few posters, though many more line the hall leading to his front door. And they hang in the area adjacent to The Gatesworth's movie theater. 
When Lesser moved into his current home in 2009, he brought with him a life populated with the things he had collected over the years: opera posters, of course, but also books, records and pieces of art. The community's interior designer worked with him to create a customized floor plan that suits his lifestyle and interests. A measured-to-fit set of shelves accommodates many of Lesser's treasures. "When I moved in, the place was set," he says. "Everything was tailored to fit."
Lesser says that The Gatesworth has given him new opportunities to explore the things he's always loved. He regularly meets a group of friends for lunch at one of three restaurants located on the property. He joins a weekly art class taught onsite, and he takes advantage of other classes and the chance to see films at the community's cinema. "It's heaven being here. I knew many of the residents before I even moved in."
Lesser is no stranger to the staff at The Gatesworth, either, where everybody really does seem to know his name — plus a few other intriguing details: Preferring more colorful ensembles, Lesser doesn't have a suit or white shirt in his closet. He hasn't owned a television in 12 years, living instead on a steady diet of books, including the classics he feels he should have read in school. He visits Subterranean Books in the Delmar Loop neighborhood of University City nearly every day and is a favorite of Ted, the resident canine. 
In fact, you can visit any art, movie or performance venue in St. Louis and likely find someone who knows John Lesser. He seems to make friends wherever he goes 
Here are a few more details to help illuminate Lesser's interests and character. Describing himself as a movieholic, Lesser sees about five movies a week at the Tivoli Theatre on Delmar Boulevard or the Hi-Pointe Theatre on McCausland. He's well known at both establishments.
A Bit of Reflection
If you ask Lesser about his disparate passions, about the differences between opera and cinema, painting and music, he'll say: "Painting, architecture, poetry, literature, dance and theater are all one." They share a common language, he says, that is grounded in a vocabulary that includes "rhythm, balance, color and composition." 
And if you ask him about the road his life has taken, about what he's learned — and what he hopes to learn next? "Passion and enthusiasm can make up for some firsthand knowledge about the way to do things. We tend to study things we like and learn from them. That was how I learned about opera and art."