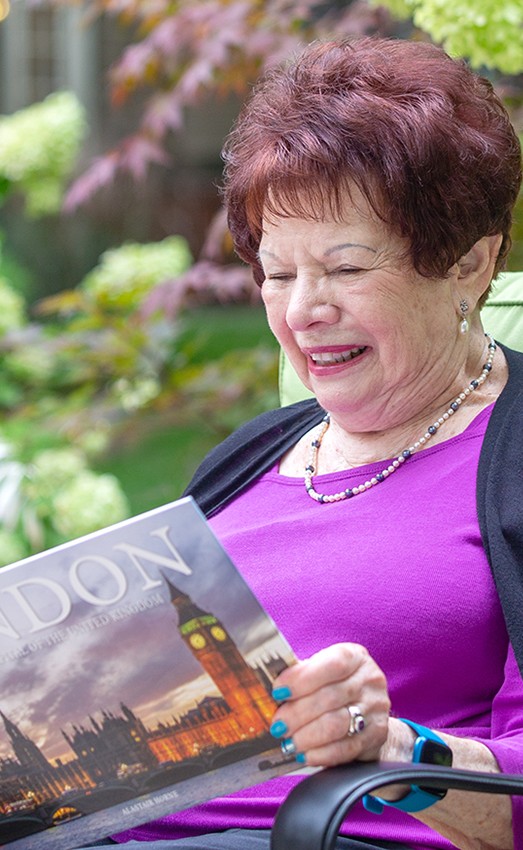 Gatesworth Stories —
Carol Max
The Gatesworth staff provided terrific care to Carol when she suffered a heart attack.
Celebrating Independence Day -- Every Day
Carol Max's independent spirit and sense of adventure are thriving in her eighth decade of life. After four years of living at The Gatesworth, Max continues running her own business in addition to maintaining a busy social life and dedicated exercise schedule. And she enjoys every minute.
A Decisive Trailblazer
Max has always blazed trails fearlessly. A native of Cincinnati, Max graduated as a business major from Miami University (Ohio) and worked for a marketing research company. She later moved to St. Louis due to her former husband's job.
After raising her children, she launched her own marketing research company that took her around the world. She still enjoys traveling for business and pleasure with frequent jaunts to New York City and Holland to visit her son who lives there as a professional musician.
As Max approached a milestone birthday about five years ago, she began contemplating some life changes. Yet the one thing she knew she wanted to keep was her active, independent lifestyle.
Around that time, she received a marketing mailer from The Gatesworth that caught her attention. However, she wasn't sure she was ready to move from her home so she tossed the piece into her recycling bin. Yet the community intrigued her enough to pull it back out and rethink her options.
Max wanted to be proactive about where she lived rather than wait for a crisis and be placed wherever there was an opening.
"I had a big birthday coming, and realized my house wasn't being used like it once was," Max says. "The house also needed redecorating, and I wasn't sure I wanted to go through all that again. So I decided to just see what's available at The Gatesworth. When I looked, I fell in love with it."
Timing is Everything
Because of her recent arthroscopic knee surgery, she was sold on the community's fitness center. "I knew I wasn't getting enough exercise but with a warm, saltwater pool right where I lived, there wouldn't be any excuses for not exercising," Max says.
She also appreciated that physical therapy was offered onsite at The Gatesworth.
The Gatesworth's elegant apartments captured her imagination, too. When Max officially decided to move to a one-bedroom apartment in the community, her decorator and The Gatesworth's move-in coordinator worked together to personalize the space to meet Max's needs, including customizing an office space for her business.
"During the move, I traveled for a month and everything was done perfectly when I came back," Max says. "Now it's just 14 steps from my office to my coffeemaker."
Max has called The Gatesworth her home since 2015. She immersed herself in the community and quickly made friends.
"Between all the activities here and balancing time with friends, plus my business, I never run out of things to do," Max says. "Five to six days a week, I'm out at lunch, dinner or going to the theatre, symphony, museums or activities with my family. I also enjoy field trips through The Gatesworth. I don't miss much!"
Her next adventure is a 10-day trip to Europe this fall.
Because of her experiences, Max strongly advocates that people should move to The Gatesworth while they are still healthy and active so they can fully enjoy all the community's amenities and activities.
"Living at the Gatesworth has given me the freedom to do everything I want to do," she says. "I continue to have my own life without the responsibilities of homeownership."
A Healthy Lifestyle on the Move
Max appreciates the comfort level The Gatesworth offers her and other older adults. When Max wasn't feeling well in March, she visited The Gatesworth's onsite personal-care nurse who knew her well. The nurse quickly recognized Max was having a heart attack and sent her to the hospital. Max received treatment and began a cardiac rehabilitation program that she continues at The Gatesworth.
"If I was at home alone having a heart attack, I would have been frightened," Max says. "Being here, I felt very safe. The team knows who you are, and you're not among strangers."
As part of Max's cardiac rehabilitation, she also learned more about nutrition. The chef at The Gatesworth worked with Max to create a heart-healthy diet just for her.
While Max had always lived a healthy lifestyle, her health scare motivated her to prioritize exercise. Now she blocks off her schedule every morning so she can attend one of the many exercise classes at The Gatesworth. Her favorite activity is swimming, and she also takes a step class and yoga, and has added the treadmill and cross trainer machine to her exercise routine.
Max is energized by the variety of offerings. "One time, we wore tutus and did ballet in the pool. It was just plain fun and keeps you so motivated. All you have to do is walk down the hall to use everything. The Gatesworth also has so many options for entertainment and programs that help you get to know people. I've met some wonderful friends here.
"The Gatesworth is like a cruise ship without water. Everything you need is right here."
Where Everybody Knows Your Name
The Gatesworth's local ownership team and the staff are standouts for Max, too. "The owners know who we are and we can talk to them anytime. The staff is also top-notch. If you need anything, they are there in a jiffy. I was really impressed that by the time you move in, the staff members all know your name. They stand by their philosophy of 'The answer is yes -- what's the question?'"
She also marvels at the attentive service. "I never have to carry a package and the concierge will bring your car to you. They even have a dog walker here if needed. They do everything seamlessly."
When she moved to The Gatesworth, she was even able to bring a special piece of home with her: surprise lily bulbs from her home garden to plant in The Gatesworth's garden. "It meant a lot for me to be able to bring a little of my past with me." she says.
Max is happy with her lifestyle of fun and friends that has truly taken root at The Gatesworth.  "My son says his mother thinks she is at summer camp," Max says with a laugh. "I love every minute here -- it doesn't get any better. When I go away, I look forward to coming back."