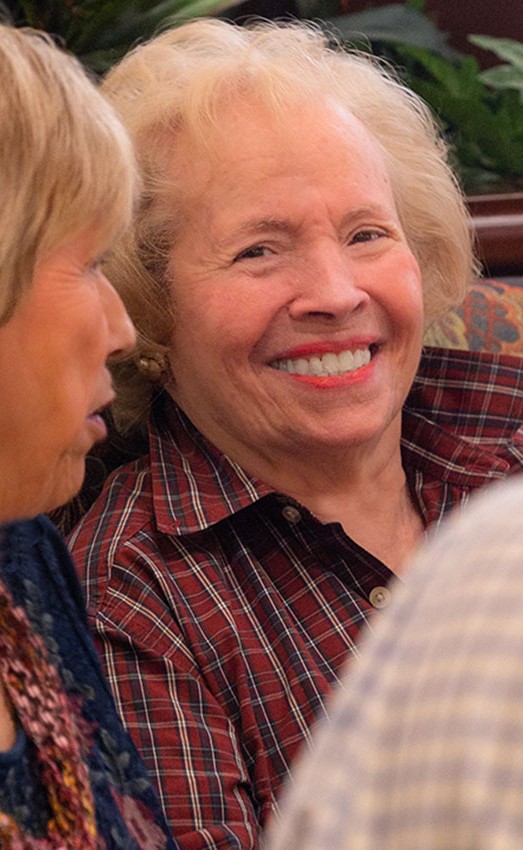 Gatesworth Stories —
Why Independent Living Can Make Sense for You
Seniors can receive some extra help at The Gatesworth, but they stay independent overall.
A large percentage of seniors may think there is no reason to move into a senior-living community unless they need assisted-living, skilled-nursing or memory-care services. If they're healthy and mobile, many believe they should continue to live in their own home and proceed with life the way it's been for decades.
But so much can be gained by moving into a community like The Gatesworth, where seniors are still very independent but some extra help is available if it's needed.
As the St. Louis region's premier independent-living community for more than 30 years, The Gatesworth offers a wide array of spacious rental-community homes, fine-dining options, vibrant programs and unparalleled amenities. There are also many health and social benefits to becoming part of a senior community.
The Gatesworth is safe and secure, which gives residents and their family members peace of mind. The community offers 24-hour security, which means help is available if it is ever needed. It also has an emergency-response system and daily-call assurance program in place to ensure security for all residents.
Avoid Isolation & Meet New Friends
When it comes to programs and events, The Gatesworth truly has something for everyone. The community keeps seniors active, both mentally and physically. The lifestyle it promotes helps residents avoid isolation and meet new friends.
There are plenty of opportunities to pursue new interests, expand knowledge, embrace independence and build friendships at The Gatesworth. Living spaces, which are surrounded by beautiful grounds, can be customized to fit needs and wishes.
Food & Beverages, Your Way
At The Gatesworth, residents can enjoy more than 100 cooked-to-order menu items from one of three restaurants or have their own recipes prepared and delivered with room service. Two full-service bars are also available every afternoon and evening.
Studies show how many members of independent-living communities say the food is the best part. At The Gatesworth, residents never have to worry about buying groceries or cooking again unless they want to. Let the award-winning food & beverage staff set everything up beforehand and clean everything up afterwards.
Never Worry About Home Maintenance Again
Seniors should take a careful look at their current homes. Is everything in good shape? Or, are there small signs of neglect and deterioration? If those signs are present, it usually means the homeowner no longer has the time or energy to keep everything in tip-top shape. That is never a concern at The Gatesworth.
Perhaps it's time to move before seeing that home lose some of its value. Another big plus at independent-living communities is housekeeping. Let The Gatesworth's staff take care of vacuuming, dusting, taking out the trash and all of the other things that homeowners get little to no satisfaction from doing.
Transportation Is Always Available
In many cases, senior citizens find their driving ability is not what it used to be. Many men and women in their 70s, 80s and 90s don't want to bother family members and friends every time they need to get somewhere. At The Gatesworth, arrangements can be made for any kind of local trip.
Transportation services are available for residents at any point. Standard hours are 8 a.m. to 10 p.m., but drivers are available outside those hours as well. Never burden family and friends again. The Gatesworth can assist with getting-around needs 365 days per year.
Parking & Valet Service
For residents who still wish to drive, The Gatesworth has covered parking and valet attendants who can assist at any point. Life is much easier with The Gatesworth's concierge service team.
There is no need to worry about a snow-covered car in the winter or extremely hot vehicle in the summer. The staff takes great care of all cars and pulls them up to the curb for each resident.
Learn More About Senior Living
Now is the time to learn more about the benefits of senior living and experience The Gatesworth. No appointment is necessary, so please stop by. In-home visits are also available. For more information, call 314-993-0111. Our professional staff is happy to meet with prospective residents and/or their loved ones.