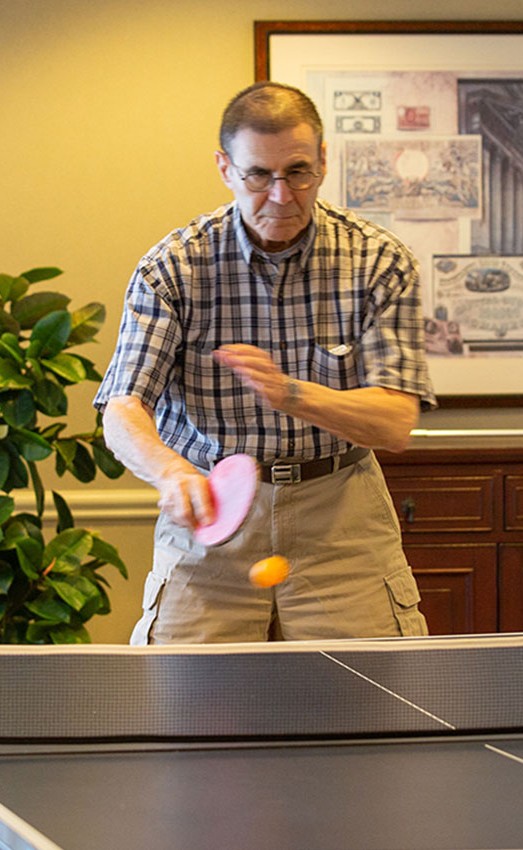 Gatesworth Stories —
The Secret to Lasting Health is in Senior Living Communities
How Active Seniors Can Plan for a Healthy Future
It's no secret that the way we live can have a huge impact on our health and wellness. Staying active, eating healthy and making time for social activities are all general ways we can promote a healthy mind and body. But did you know that where you live also makes a difference?
A new Age Well Study by the Mather Institute has shown how this has been especially true for seniors during the pandemic, and there's a definite link between daily stress, social relationships, community and lasting resilience—even throughout the pandemic.
Senior Living vs. Living on Your Own
As we age, keeping up with a house or a car and other aspects of daily life becomes increasingly difficult, and with that comes unnecessary worry and stress. Moving into any life plan community, or continuing care retirement community, comes with many benefits. This can be an independent senior community, assisted living, memory care or anything in between. They all offer a level of support that can't be found anywhere else, allowing you to enjoy life again and find true peace of mind. 
When it comes to active senior living communities, you'll find more than a basic level of support services—you're also part of a community of like-minded individuals. It's much easier to embrace this chapter of life when you're surrounded by friends and neighbors who are doing it too.
The social aspect is especially important. Residents in active senior living communities are far less likely to feel isolated or depressed and there's even evidence that this has a direct effect on long-term health and throughout the COVID-19 pandemic. In the Mather Institute's study, a large percentage of senior residents self-reported overall improved life satisfaction and better health since moving into senior living, as compared to when they lived on their own.
How to Spot Thriving Senior Living Community
While senior living communities can offer a wide range of benefits for your long-term health, it's important to know that not all communities are created equal. Findings from the Mather Institute's give clues as to what exactly you should be looking for when you're searching for your new home:
The chance to try new things. A community that fosters curious minds will have a profound effect on residents' health. This involves offering a variety of classes and activities each day, and a constant effort to throw new activities in the mix.
A place for a quiet respite. It's been found that peaceful meditation and deep breathing are just as important as physical exercise. Finding a community with amenities that promote peace of mind is important.
Adaptable service offerings. Communities that adapt their offerings according to the needs of their residents are willing to go to great lengths to keep their community happy and thriving. These communities have also proven to be much more resilient when it comes to responding to the pandemic. 
Leading a Resilient Life at The Gatesworth
The Gatesworth is a nationally recognized residential community for active seniors that provides everything residents need to thrive. It's through these offerings and exceptional residents and staff  that we've remained so resilient throughout the pandemic. We continue to go above and beyond to ensure our residents' peace of mind and lasting health.
With an award-winning staff,  world-class amenities and a variety of programs—we bring the good life right to your doorstep. We're welcoming new residents and would be delighted to meet you! Get a taste for life at The Gatesworth by scheduling a personal visit today: 314-993-0111.