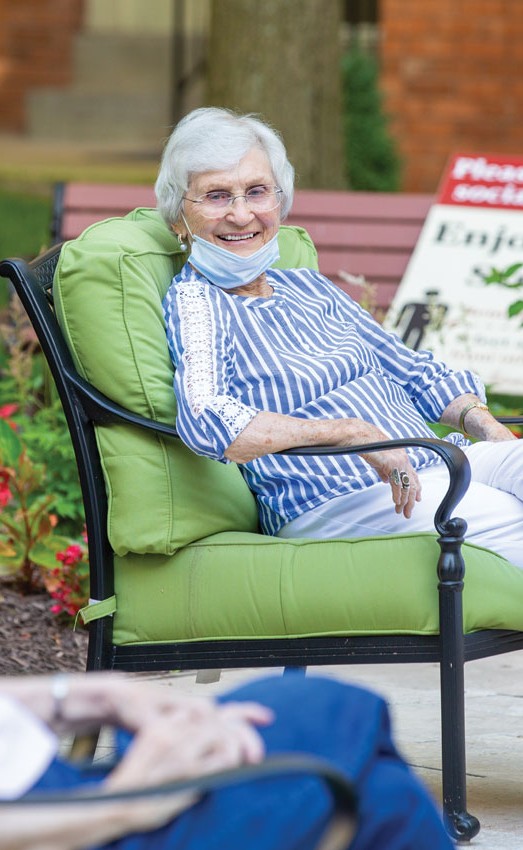 Gatesworth Stories —
The Gatesworth Keeps Residents Connected in Challenging Times
The Gatesworth is committed to keeping an engaged community
The Gatesworth is working harder than ever not only to keep their residents safe, but also to keep them feeling connected with their families and the community.
"Residents and families have been extremely supportive and cooperative with the challenges during the last few months," says executive director Carrie Montrey. "Our staff has worked very hard to provide a safe environment for our residents [and] they have expressed gratitude for living here during this time and shared their past experiences on getting through hard times."
Staff at The Gatesworth listened and learned from this wisdom to help create the best independent lifestyle experience for residents. "Our staff genuinely cares about our residents and knows each of them very well," Montrey explains. "The main focus during this time is to be sure each resident is well and staying as connected as possible with family."
In order for residents to keep in contact with others, many are embracing new technology for the first time. The staff offers technological help and are on-hand to educate residents on using FaceTime, Skype, Zoom and others, thereby enabling them to hold video chats with friends and family, as well as attend meetings and book discussions with the rest of the retirement community. For family and friends who want to visit in person, window and patio visits are available and allow for safe communication for everyone involved.
"Our residents may not be physically able to see their families, but they are socially active with them [as well as] with friends and neighbors." Montrey says. "We also enlisted a 'Care Team' comprised of staff members, each assigned a group of residents to check on several times per week with phone calls and personalized notes."
The Gatesworth has always strived for residents to feel at home in its community, and that mission has been even more important during the pandemic. "The last three months have centered [on] ways to stay connected with our residents," Montrey says. These efforts have included everything from live music performances in the courtyards by local bands such as the Kevin Mitchell 4 and humorous cut-outs of famous people moving through the building, to hosting weekly themed parades led by the management team, who cheer and wave at residents on their balcony or patio. Themes so far have included "beach" and "fiesta," bringing vibrant summer joy to everyone in quarantine.
Residents of The Gatesworth are also able to stay active through the walking trails available on the grounds, as well as using the gym – currently open by appointments. The art room and gift shop are also open for residents to visit. The Gatesworth also continues to make life easier for residents during these challenging times through employing personal shoppers and food delivery services.
"We may be physically distancing, but we're [staying] connected," Montrey says. With staff and residents working together to stay safe and stay connected, The Gatesworth is committed to keeping the spirit of the community alive, no matter the challenge.
Text based on an interview by Maggie Peters in Ladue News