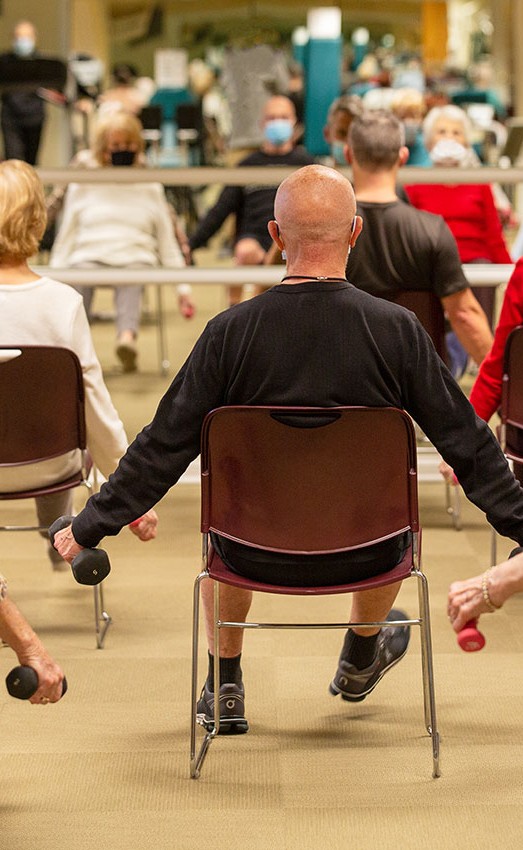 Gatesworth Stories —
Staying Fit this Holiday Season
Tips to Help Every Senior Thrive
The holidays are a festive and fast-paced time of year. Cold weather, busy schedules, holiday parties and endless culinary temptations combine to make it especially difficult to stick to your fitness routine.
Here are some ways to stay on track with your fitness and focus on what matters most of all: your health and happiness.
Plan ahead
It's easy to feel like you don't have time to get any exercise in, especially during the holiday season. Scheduling your workouts ahead of time will ensure that you can fit them into your day.
Pace yourself
Breaking your workouts into smaller chunks can help your day feel more manageable while still meeting your fitness goals. Instead of working out once a day, try doing a little in the morning and some more in the afternoon.
Get creative
For seniors, a key to staying fit is to just keep moving and going to the gym or the pool aren't the only ways to get in a workout. Try using the stairs next time you're out, or head outside for a nice walk.
Log your food and fitness
Keeping track of your nutrition is especially important this time of year. Whether it's on a piece of paper that you keep in your kitchen, or on an electronic device, logging your food and exercise allows you to take control of your health and stay accountable.
Get a workout buddy
Everything is better when you have friends by your side. Finding a workout buddy will give you support you need to stay active and motivated.
Hydrate
Don't forget to drink plenty of fluids and adjust your water intake according to your activity level. The more you move, the more water you'll need. An easy way to remember to drink water is to always keep a water bottle with you, wherever you go.
At The Gatesworth, we know how important fitness is for helping seniors maintain an independent lifestyle. Staying active benefits our Residents in many ways by improving blood flow, balance, strength, joint movement and sleep, along with reducing fall risk and minimizing stress levels.
Our fitness center features special gym equipment that's specially designed to support the fitness needs of seniors, along with a saltwater pool and private locker rooms. Our Residents have private trainers at their disposal who help create personalized fitness plans. We also offer Residents a wide range of fitness classes, including tai chi, yoga and water aerobics.
We prioritize health and wellness in a multitude of ways and give our Residents the freedom to enjoy an active lifestyle on their terms. To learn more about life at The Gatesworth, give us a call at 314-993-0111.