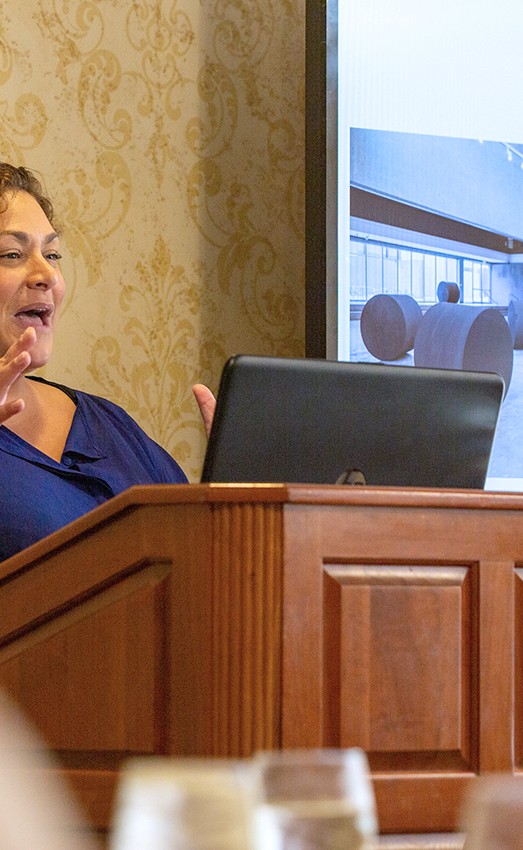 Gatesworth Stories —
St. Louis Icons Speaker Series Underway
The Contemporary Art Museum recently presented. The series continues on Oct. 22 with The Repertory Theatre.
The Gatesworth's three-part St. Louis Icons Speaker Series is underway. Each luncheon takes place in the Colonnade Room and seating is limited. The doors open at 11:45 a.m. for each event, with the programs to follow at noon. The cost is $17.95 per luncheon. To make reservations, please call 314-452-4425.
The first presenter was Contemporary Art Museum St. Louis Executive Director Lisa Melandri. Next up, on Tuesday, Oct. 22, is Repertory Theatre of St. Louis Artistic Director Hana Sharif. The series concludes on Friday, Nov. 8, when Center of Creative Arts Executive Director Kelly Pollock visits The Gatesworth.
Contemporary Art Museum Intro
The Contemporary Art Museum (CAM), located at 3750 Washington Boulevard, is free to all visitors. Originally opened as the First Street Forum in 1980, the attraction assumed its current name and moved to its Downtown St. Louis location in 2003. The CAM has grown to more than 50 employees overall, including 16 full-time staff members.
The CAM is closed on Mondays and Tuesdays, but it opens at 10 a.m. Wednesday through Sunday. It closes on Wednesdays, Saturdays and Sundays at 5 p.m., with extended hours until 8 p.m. on Thursdays and Fridays. As a 501(c)(3) nonprofit organization, the museum is privately funded through personal and corporate contributions.
The CAM welcomes visitors of all ages and hosts more than 3,000 individuals for tours on an annual basis. During each visit, it wants people to encounter, discuss and interact with the art.
Emerging & Established Artists
Melandri, who has led the region's premier contemporary, non-collecting art institution since 2012, has brought emerging and established artists from around the globe to St. Louis.
"Our goal is to bring the world to St. Louis and take St. Louis to the world," she said during the luncheon. "It's a lot of fun to work with artists in moments before their meteoric rise. We offer a platform to launch careers and send really talented people into the spotlight."
Learning & Engagement Initiatives
Under Melandri's leadership, CAM's learning & engagement initiatives have grown significantly. In the past year, the museum worked with 65 schools and served approximately 5,000 young people. And thankfully, there is never a charge to any of the schools it works with.
"Our staff is proud of the school programs it has established," Melandri added. "That interaction can certainly be life-changing for young people."
"An Amazing Arts & Culture City"
Melandri, who carries great perspective after living all over the country, called St. Louis an "amazing arts and culture city." She grew up in Boston and called Los Angeles home for 12 years before making the move to the Gateway City.
Visit the Contemporary Art Museum St. Louis online at CAMSTL.org.
Repertory Theatre Preview (Oct. 22)
Sharif assumed artistic leadership of The Repertory Theatre in June. She previously spent five years as the associate artistic director at Baltimore Center Stage, where she oversaw the day-to-day execution of all mainstage and studio productions. Her multi-faceted theatre career includes roles as an artistic leader, director, playwright and producer, with a specialty in strategic and cross-functional leadership.
Visit the Repertory Theatre of St. Louis online at REPSTL.org.
Center of Creative Arts Preview (Nov. 8)
Pollock, an integral leader at the Center of Creative Arts (COCA) for 21 years overall, has been in the executive director role since 2010. She has expanded COCA's impact through innovative programs, significantly grown its budget reserves & endowment and forged key partnerships. Committed to fighting inequality, Pollock has shaped COCA's vision of using the power of the arts and education to build a vibrant St. Louis that is more creative, connected and inclusive.
Visit the Center of Creative Arts online at COCASTL.org.