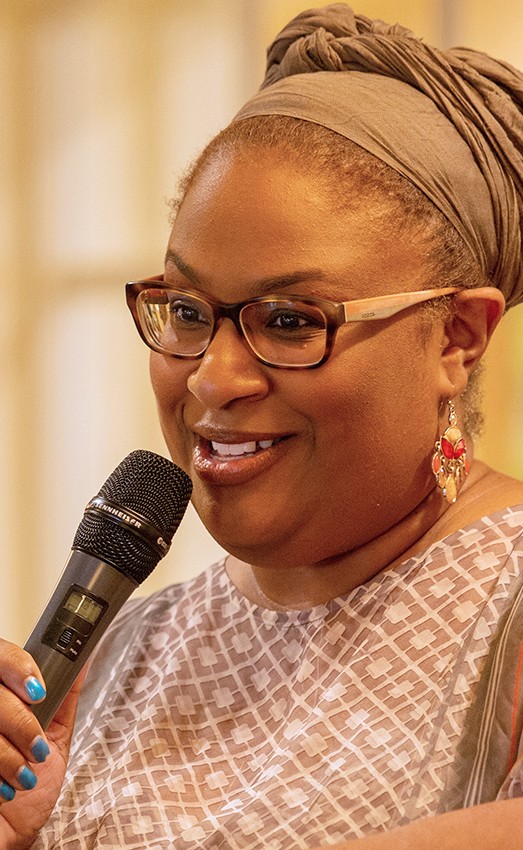 Gatesworth Stories —
St. Louis Icons Speaker Series Continues
Repertory Theatre of St. Louis Artistic Director Hana Sharif recently presented.
The Repertory Theatre of St. Louis (The Rep), located at 130 Edgar Road in Webster Groves, is dedicated to excellence in producing an eclectic range of live theatre. Half of its 12 annual shows are in a 763-seat auditorium with a three-quarter thrust stage. No seat inside the mainstage is more than 20 rows from the action.
Founded in 1966, The Repertory Theatre represents the St. Louis region's most honored live professional theatre. It belongs to the League of Resident Theatres, which is part of a national service organization for not-for-profit professional theatre.
The Rep, which strives to be informative, entertaining, educational and challenging, plays its role in the region's vibrant arts community. The theatre emphasizes diversity and values contributions from artists and staff members alike.
"The Rep has a very rich history, and I'm excited to be part of that," Artistic Director Hana Sharif said at a recent Gatesworth luncheon. "I'm so glad to be working with an incredible staff here in St. Louis."
A Well-Traveled Artistic Director
Sharif follows Steve Woolf, who led The Rep for 32 years. Her multi-faceted theatre career includes roles as an artistic leader, director, playwright and producer, with a specialty in strategic and cross-functional leadership.
Well-traveled both personally and professionally, Sharif has made several stops throughout the country. She previously spent five years as the associate artistic director at Baltimore Center Stage, where her focus was the day-to-day execution of all mainstage and studio productions.
The Houston native earned a bachelor's degree from Spelman College (Ga.) and a master's degree from the University of Houston. After college, she spent seven years at Hartford (Conn.) Stage and two years at ArtsEmerson in Boston.
"Great Art Begins in St. Louis"
Sharif's professional relationship with Woolf had a lot to do with her relocation to St. Louis. The region's strong reputation for live professional theatre was also a major factor.
"This opportunity was attractive to me because this region invests in its cultural institutions," Sharif pointed out. "Great art begins in St. Louis … and always has."
Evaluating & Securing Talent
One of Sharif's top responsibilities is evaluating and hiring talent. The Rep has a casting office in New York, which attracts performers from all over the world. Those actors and actresses are complemented by local performers from the St. Louis region.
"I want St. Louis to have access to the very best artists in the world, and I want to take the best artists from this region to the world," Sharif added.
Upcoming Performances
Feeding Beatrice will be featured at The Rep through Nov. 17. Pride & Prejudice takes center stage from Dec. 4-29. Shows generally run Tuesday through Sunday each week, with Saturdays and Sundays usually offering two performances.
For detailed show schedules and ticket information, visit The Rep at REPSTL.org.