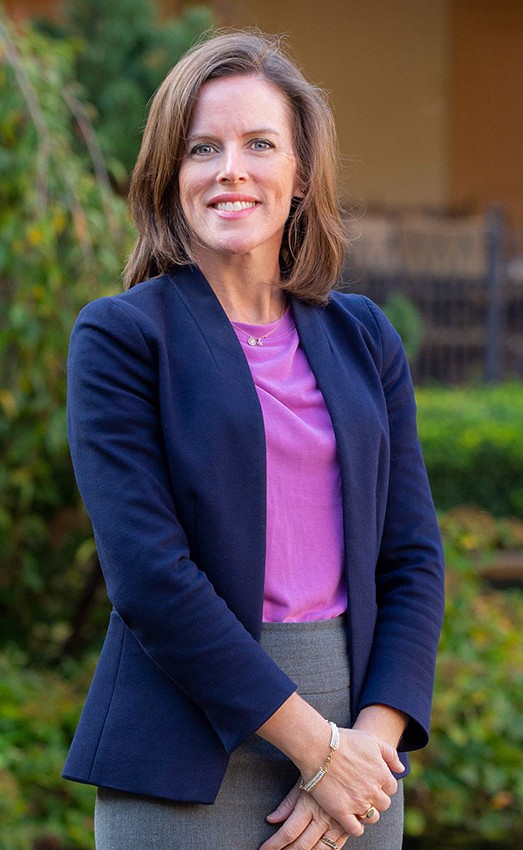 Gatesworth Stories —
Spotlight: Q&A with Executive Director
Carrie Montrey
Executive director Carrie Montrey has been with The Gatesworth for 19 years. She began as assistant director in resident services and has worn many hats since, from running the fitness center to working with security. We are grateful to have her at the helm and thought you might enjoy getting to know her better.
How would you describe your typical day?
No two days at The Gatesworth are the same. I enjoy the variety of my work, especially when it comes to talking and enjoying time with residents. I work with different managers, and I talk with residents and their families daily. We are always brainstorming and looking for new ideas to improve things.
What is the most rewarding part of your career?
The most rewarding part of my job is being able to work directly with people, listening and resolving any concerns. I especially enjoy hosting special events like celebratory breakfasts or monthly birthday lunches. It's a great opportunity for everyone to learn about each other.
Along with spending time with residents, I love how much positive feedback I hear. Residents and their families are always popping into my office to share something nice or compliment the staff. Everyone who works here truly helps set The Gatesworth apart from other retirement communities. We have a strong commitment to quality and strive to maintain an exceptional level of service. With one of the highest staff-to-resident ratios in the nation, the community provides an unparalleled experience, and requests can be answered quickly.
What drew you to work at The Gatesworth?
I was initially attracted to the opportunity because of the people, and now, they continue to motivate me to do my best. Everyone who works here is so gracious and kind. It's a wonderful environment.
How does The Gatesworth encourage and support health and wellness for residents?
The success of The Gatesworth's dedication to its residents is evident in the satisfaction of those who call it home. Along with being able to socialize with one another, residents most enjoy the variety of activities and programs offered, including discussion groups, live entertainment, card games, spa services and fitness classes. And the schedule often changes to suit people's interests or needs. For example, the fitness program began offering step and men's weight classes after residents inquired about them. It takes a lot to operate something this large with such a high level of service. Credit definitely goes to the managers and employees who deliver all of our services to residents.
What are you grateful for at The Gatesworth?
I am thankful for the opportunity to offer our services and grateful to our residents who make our community exceptional.
Lightning Round:
Hometown: Florissant, MO.
Education: I received my bachelor's in international studies from Westminster College in Fulton, MO.
Hobbies: Hiking, running and spending time with family and friends.
Family: Happily married to my husband of 20 years and together we are raising two teenage boys.