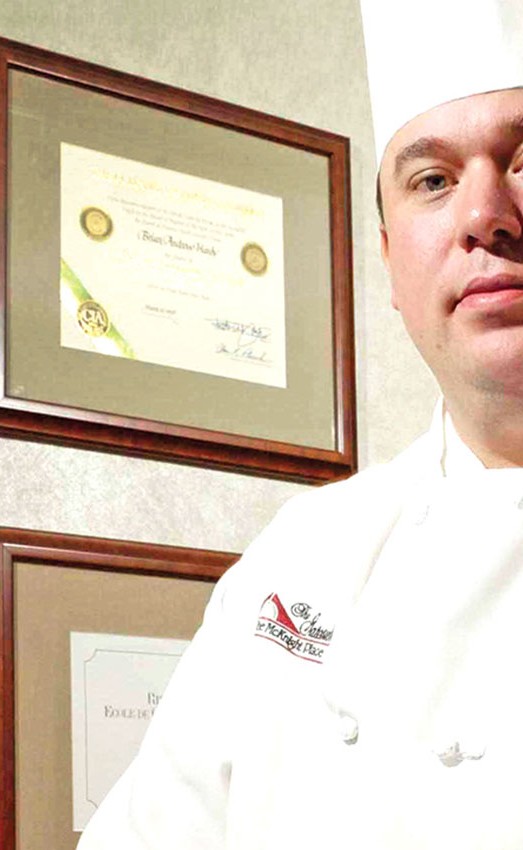 Gatesworth Stories —
Spotlight: Q&A with Executive Chef
Brian Hardy
Meet Executive Chef Brian Hardy—the award-winning chef behind The Gatesworth's delectable cuisine. His illustrious culinary career began at the Culinary Institute of America in New York City, and he's worked in kitchens in Paris and at some of St. Louis' most prestigious country clubs—not to mention the accolades he's earned in numerous competitions. He uses that experience to ensure that he and his team make every dining experience worth savoring.
What are the dining options at The Gatesworth?
We have three distinct restaurant-style dining areas. Palm Court is our most casual option, and it's open for breakfast, lunch and dinner every day. The Colonnade is a more elegant and formal option for dinner with a menu focused on steaks, chops and fresh seafood. The Bistro falls somewhere between the two, and the menu has lighter, Tuscan-inspired fare, such as flatbreads, pastas and risottos. For all of the restaurants, we change the menu every month. We want residents to stay excited about the food, even though they are dining with us most days.
How do you approach menu creation?
We don't cycle menus. They are all created by myself and my sous chefs and cooks. A lot of it depends on what is available seasonally and the ingredients our produce, meat and fish purveyors recommend. We like to stay on top of culinary trends and offer a wide range of cuisine, so we do a lot of continuing education to learn new techniques. We also interact with the residents to learn what they would like to see on the menu.
How does the culinary team engage with residents?
We make it easy to put in requests for what they would like to see on the menu. Every time I walk down the hall, I have residents stopping me to tell me about dishes they've enjoyed. The same is true for other members of the culinary team. We also look at what items are ordered the most because people tend to be positive in their feedback, and we want to know what may not be working. Our team, including the managers and servers, really work to learn what residents like. My cooks can see an order, recognize the name and know exactly what extra steps can make that person's experience better—whether it's more sauce on the side or the vegetables separated. In a traditional restaurant, you don't get to know your customer in that way.
Are there any special concerns that come with creating meals for older adults?
Sodium is a concern for everyone's diet. We don't buy anything processed, and we butcher our own meat and fish in house. A lot of times, products may be injected with a saline solution, so that's additional salt. Since we brine, cure and marinate everything ourselves, we have more control. We can use herbs to ensure everything is flavorful without having to add more salt. Our cooks are trained to properly prepare vegetables so they maintain their nutritional value. We also can accommodate individual residents' dietary restrictions easily since everything is made fresh. We can cut salt, butter or any other ingredients that may be a concern.
Is there a menu item you can never get rid of?
Not really. There are always different trends and what people are excited about changes. Residents do love cobblers and pies for dessert, but we switch up the varieties.
Text based on an interview by Stephanie Wallace in Town&Style