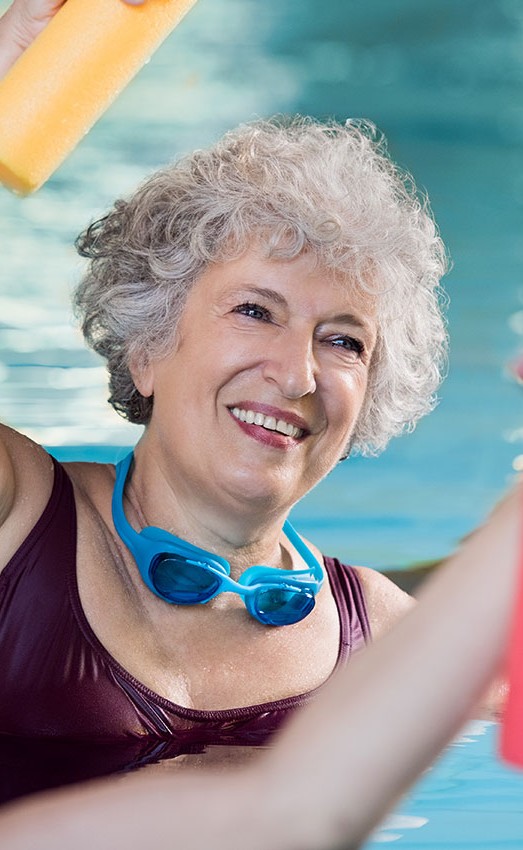 Gatesworth Stories —
Smart Body, Smart Brain
Tending to physical and intellectual needs is smart at any age
We've all heard about the benefits of exercise for physical and emotional health. Better mood, better immune system, better balance -- and of course stronger bones and muscles -- are just a few advantages of staying physically active. 
We also know that keeping the mind challenged and engaged helps us stay sharp. Community connections are vital to our well-being, too, and can keep depression or loneliness at bay.
We know all this, yet it's not always easy to follow through and do the things that support our overall health. 
Fatigue or apathy can lead to skipping a class at the gym or a lecture at a community center. Isolation at home interferes with our very human need to interact with others daily, allowing melancholy to sneak in and rob us of our interest in activities that make us feel connected to the world. 
But what if motivation was right at your doorstep? What if every day it was easy to get exercise, socialize, and engage your inner creative self?  
A community designed to offer older adults exceptional living will ensure that physical and intellectual activities are woven into the fabric of daily life. After all, it's relatively easy to stay active in the right environment. 
When these opportunities are available at senior living communities, the results are tremendous. Numerous studies show that residents of senior living communities are more likely than their stay-at-home counterparts to:
Be happy with their daily lives
Spend more time connecting and interacting with people
Spend less time watching TV
Say that their health is better today than it was two years ago
Activity helps us feel younger, vibrant
Advancing age doesn't have to lead to less activity. Instead, activity can help us stay healthier and feel younger while we age. That truth has empowered countless older adults to remain relevant and vital. 
"We want our community to inspire a vibrant, active lifestyle," says Carrie Montrey, executive director of The Gatesworth, a senior living community in St. Louis designed for older adults. "If you walk our grounds and buildings, that's exactly what you'll see."
People who choose to live at The Gatesworth can walk garden paths or tend flowers in the greenhouse. They can practice their putting, play billiards, paint a landscape, roll out a yoga mat or hit the weight room. All within a short walk from their doorstep.  
"There's always something going on here," Montrey says. "The people who live here are engaged and involved. We're happy to offer the kinds of classes and events that help them enjoy life."
The fitness center at The Gatesworth helps meet that goal, as does the heated, indoor saltwater pool. Fitness classes, including tai chi and water exercise, are led by instructors and personal trainers who can also create individual fitness plans. 
A lecture-and-discussion series features experts from a wide range of fields, including history, politics, literature, foreign language and the arts. And members of the St. Louis Symphony Orchestra and other musical organizations appear for community performances.
The onsite spa offers a full complement of essentials and extras. And three onsite restaurants meet casual and fine-dining needs. 
"It's all part of the exceptional service we're known for," Montrey says. 
For more information about The Gatesworth or general guidance regarding senior living, call 314-993-0111.