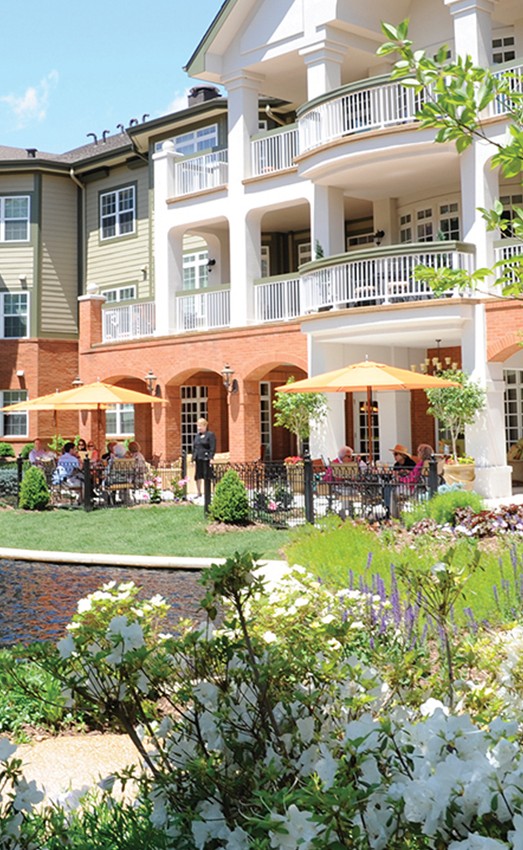 Gatesworth Stories —
Simply the Best
Retirement Lifestyle at The Gatesworth
Established in 1988, The Gatesworth revolutionized what it meant to be a senior living community, providing exceptional services and an elegant residential lifestyle. From quality amenities to top-of-the-line staff, it's no wonder The Gatesworth continues to be named a top senior living community, locally and nationally.
"We've earned these accolades by devoting ourselves to the residents' well-being—and we don't rest on our laurels," says co-owner Bob Leonard. "We constantly focus on making things better. Our services and amenities are unmatched." Leonard also thanks Ladue News readers for voting for The Gatesworth as the Best Senior Living Community in St. Louis in the 2022 Platinum List readers poll. Forbes magazine similarly named it one of the Top 10 senior living communities in the country.
Leonard, alongside founders Charlie Deutsch and David Smith, had a vision to create a kind of independent senior living community they hadn't seen before: the kind of place they would want to live in, somewhere residential and independent, person-centered in its programs and services.
"We decided to build The Gatesworth because we were passionate about helping older adults maintain their independence as long as possible," Smith says. "Our core values are based on residents having lots of choices and opportunities for privacy, as well as for group programs and activities."
Deutsch adds: "We empower people by making the entire environment accessible, inside and outside. It makes the impossible possible with opportunities for life-enhancing experiences."
The Gatesworth's success is attributed to those core values of choice and opportunity, inspiring residents to live an active and independent lifestyle. Residents have access to any number of clubs and programs, including gardening, art classes, fitness classes, book clubs and lectures, which they can choose to participate in as often as they like.
The community also offers a state-of-the-art fitness center that includes a heated indoor saltwater pool, as well as a full-service spa, a beauty salon, massage rooms and more. The grounds are perfectly maintained, with walking paths around a stunning lake and reflecting pond, allowing guests to have parklike scenery right outside their apartments.
Furthermore, The Gatesworth is exceptional in its friendly and accommodating staff. Residents are impressed by how staff members remember their names and lives, and how they go above and beyond in offering personalized service.
The shining standard at The Gatesworth extends to its kitchen staff. Nearly every individual who trains with The Gatesworth is a graduate of a culinary program or has gone through an apprenticeship, with some having even competed worldwide.
"It's nice when you hear residents love a certain dish," executive chef Brian Hardy says. "When they see you make that for them, they feel like, out of the 300 people around, you're cooking for them. To be able to have that kind of connection is one of the best parts of my career."
It's that connection that truly sets this community apart. The Gatesworth's executive director, Carrie Montrey, concludes: "The Gatesworth is a warm and welcoming community for seniors who want to remain active, eat well, pursue passions and make new friends—all in the comfort of a safe and engaging environment."
Text based on an interview by Maggie Peters in Ladue News