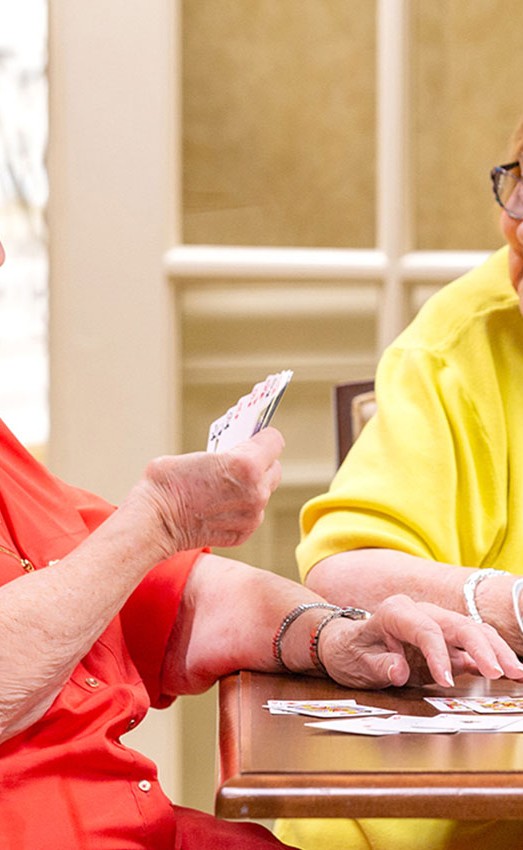 Gatesworth Stories —
Senior Goals:
A Simpler Life Lived Well
After the kids have moved out and the career track has come to an end, what's next? For many of us, the answer to that question is easy: simplify! What that means exactly differs from one older adult to the next. Some of us want to stay busy and use volunteer work to keep active and engaged in the community. Some choose to travel, extending horizons. Others dream of quiet time spent in the garden or whittling away at a stack of books.
For those who've chosen to become part of The Gatesworth community, St. Louis' premier independent senior living residence, life has become simplified in the very best ways. "The Gatesworth team believes that offering our Residents every opportunity for a well-lived life is the reason we're here," says Stacy Muehlher, director of leasing at The Gatesworth. "We work to simplify life, which means everyone gets to spend their time doing exactly what they want to do."
At The Gatesworth, Muehlher says, "Our Residents can choose a floor plan that accommodates their specific needs." Though moving to a new home can be hard work, it's cathartic and energizing to downsize, making choices based on how one wants to live. To help make this process a little easier, The Gatesworth offers a moving coordinator to help manage the details. Once the move is complete, the benefits are long-lasting. "Many in the community have told us how much it means to come home to a place that brings them joy," Muehlher says.
Life at The Gatesworth means keeping what's pleasurable about home-ownership—gardening, entertaining friends and family, or a quiet evening spent in a comfortable space—and stopping  what isn't. No more shoveling snow, mowing lawns and making repairs. "We take care of all of this," Muehlher says, "which allows Residents to have more time to spend doing what they choose."
Living in an active senior community can also simplify money management. The expenses associated with unanticipated repairs are gone, as is managing an influx of bills for heating and cooling, water and trash, taxes and the rest. At The Gatesworth, these costs are combined, making them easier to manage.
Staying active—a goal for many older adults—is simpler at The Gatesworth, too. "Transportation is available for Residents who don't want to drive but want to stay involved in the wider community," says Muehlher. And for those who want to live an active life closer to home, Muehlher says, "we offer just about everything, from art classes to physical fitness, a lecture series to movie screenings—all just steps away from our Residents' front doors."
Breakfast, lunch and dinner—sometimes quite a chore—become easier in an active senior community. And at The Gatesworth, there's no sacrifice in quality or ambiance, thanks to three onsite restaurants and a professionally trained chef with exemplary credentials. "Residents also have the option to order in for themselves and guests," says Muehlher, "and we have a service that makes it possible to take hors d'oeuvres or dessert to the next party or family dinner."
Muehlher adds: "We are here to offer support to our Residents, to help them achieve the lifestyle they've earned. Our community was designed to ease the daily stresses and emphasize the richness of a simplified and well-lived life."
To learn more about The Gatesworth, call 314-993-0111 and speak with a leasing counselor.