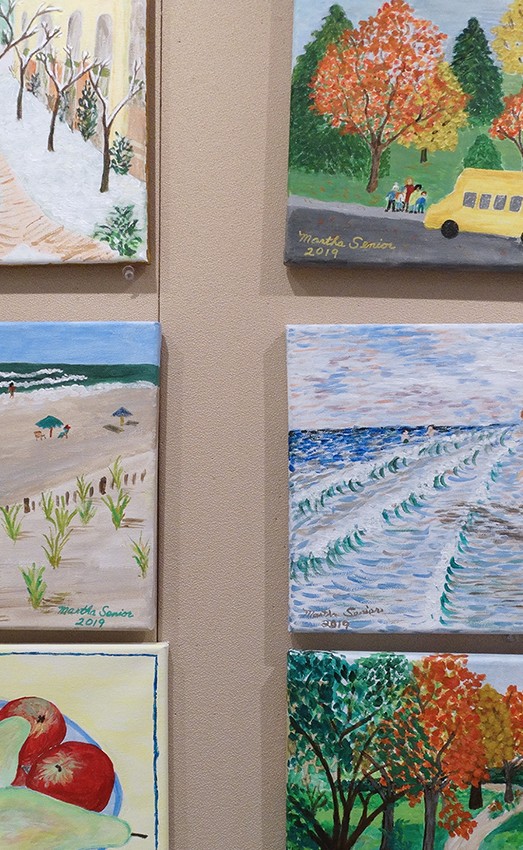 Gatesworth Stories —
Residents Prepare for Art Show & Reception
The Gatesworth's Jan. 26 event is open to all residents & their loved ones.
Twice each week, a group of residents at The Gatesworth get together inside the community's Art Center to work on their latest masterpieces and discuss techniques with one of two instructors.
And this isn't just any kind of art. It's award-winning art. These are some of the most talented seniors in the St. Louis region. Just ask judges from the annual St. Louis Senior Olympics.
The Gatesworth will host its annual Art Show & Reception on Sunday, Jan. 26, from noon to 3 p.m. The event, which is open to all residents and their family members, will show off some of the community's best resident-produced work from the past year.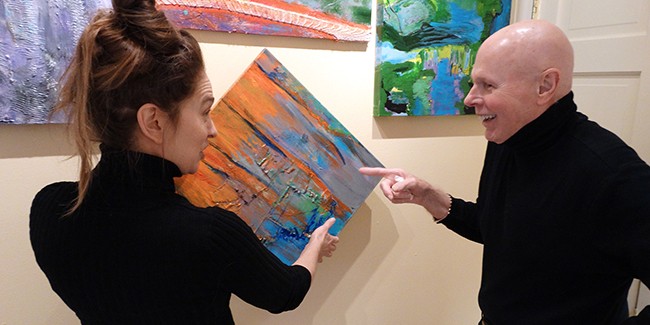 The Instructors & Basics
Instructors Shana Norton and Liz Cannon alternate coverage of the classes, which have about eight regular attendees. In January, classes have been offered either Sundays or Mondays and every Wednesday. Each lasts two hours, but residents are usually "in and out" during that time.
Information for February and beyond will be available via The Gatesworth's monthly programs and events calendar. The Art Center is located just off the main lobby and only steps from The Gatesworth's front doors.
Norton previously worked at a nonprofit that supports adults with disabilities in an open-studio environment. She earned a degree in studio art from Webster University and is currently pursing a graduate degree in mental health counseling.
Cannon, who also attended Webster, has worked for a multinational biotechnology company since 2015 after also spending several years in the nonprofit world.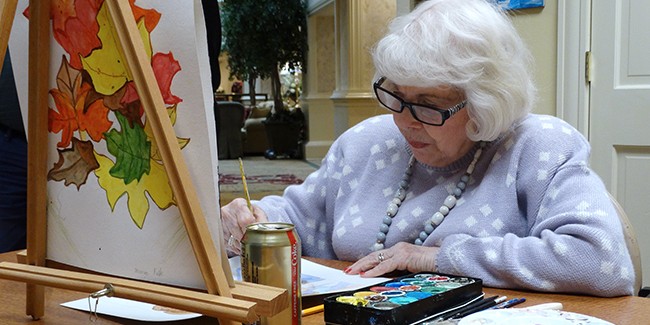 Everyone Is Welcome
The Gatesworth welcomes residents with all types of backgrounds to participate in its art classes. No prior experience is required. In fact, many residents don't even discover their artistic talent and passion until after they've moved to the independent-living community.
"One of our current participants holds a PhD in physics," Norton said in a recent interview. "His profession had nothing to do with art, but, after moving here, he became curious about art and started coming to our classes. That's when he found his talent and fondness for it."
Whether encountering a current resident or prospective resident, Norton and Cannon ask to at least have a meaningful conversation about what they are doing. The instructors enjoy talking to anyone and everyone about what the program entails and how seniors benefit from it.
"We have residents who come in (the Art Center), see what's on our walls, and tell us they're not capable of what they see," Norton said. "They say all they can do is draw a stick figure, but that's not true. Liz and I are here to give them a new definition of art and artist."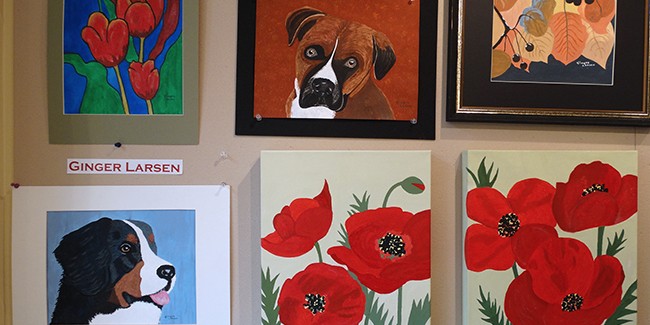 Focusing on Creative Expression
Norton and Cannon encourage different types of creative expression as a means to producing art. They want to take away the expectation that, in order to become an artist, you have to hyper-realistically render something that you see.
"I try to show people other ways of using color, paint, movement, line, etc., so that it can become something accessible," Norton said. "That's how we try to get them interested."
One process that multiple residents are comfortable with is finding an image, copying it and tracing it. They will then paint to that outline. It gives them an instant confidence burst, but at some point, that becomes a crutch Norton doesn't like to see.
"I like to encourage them to just look at images and freehand draw or paint their pieces," she said. "Liz and I are never pushy with residents, but we like to see them grow and mature (from an artistic standpoint). Our goal is for each individual to reach their potential."
Some residents have a preferred medium such as watercolor, acrylic, pastel or oils. One resident works abstractly and intuitively. He has no desire to recreate images that have already been created, but likes creating things apart from specific objects or instances.
"Our abstract and intuitive resident is so neat to work with," Norton said. "We talk about where he's going (with a painting), why he makes certain choices and why he wants to create certain pieces. We go back and forth a lot. The conversations are fun."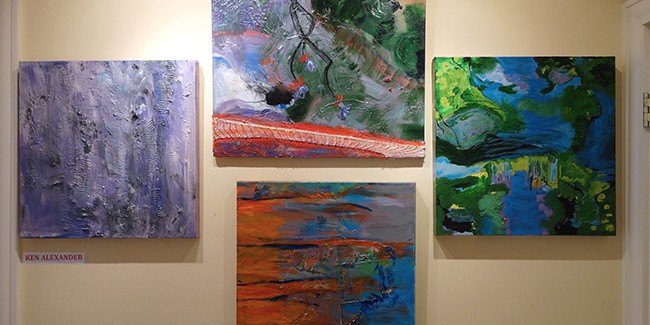 Join Us for Sunday's Show
Sunday's Art Show & Reception, which will be held in the Art Center and Club One, is a perfect opportunity for residents and loved ones to celebrate all of the art that is being produced inside The Gatesworth. The work on display will primarily be from 2019.
"I love this annual event because everyone's work shines," Norton said. "There's a lot of pride around here. We love displaying these pieces and honoring our residents for their hard work, sometimes over many weeks or months. It will be a wonderful day."
Looking for an Art Competition?
Sunday's event is not competitive, but The Gatesworth residents who enjoy that environment will have an opportunity May 26-31 with the 41st annual St. Louis Senior Olympics.
The Senior Olympics, which is designed for men and women 50 years and older, promotes the health and wellness by providing opportunities to participate in competitive sports and social events. The event includes an art category with competitions in ceramics, drawing, fiber, painting, photography and watercolor.
In recent years, multiple residents have come away with ribbons for their top finishes at the Senior Olympics. Norton is hopeful more will be honored in 2020.
Tying it All Together
The Gatesworth's art program is designed for confidence and skill building. It also has a significant social element. Instructors want to see the participants enjoy themselves. And, over the years, the overwhelming majority have.
Those who dedicate some time each week to making art are usually excited about their rising skill levels and surprised to see how much they like the overall process. Many residents have discovered talent they didn't know they had.
"We don't believe anyone is too old to learn a new skill," Norton added. "We had a former resident who was 101 years old. She came to classes, was dedicated, wanted to learn and always pushed herself. The smile on her face was so neat to see. That's why I am here."
The Gatesworth
Located in the heart of St. Louis County at Interstate 170 and Delmar Boulevard, The Gatesworth has been the St. Louis region's premier senior-living community for more than 30 years.
Offering the very best in independent senior living, The Gatesworth features a wide array of spacious retirement rental-community homes, fine-dining options, programs and unparalleled amenities.
Residents live in an elegant space surrounded by beautiful grounds where there are plenty of opportunities to pursue new interests, expand knowledge, embrace independence and build friendships.
Compare the value and enjoy the peace of mind that comes with it. To learn more, please call 314-993-0111.