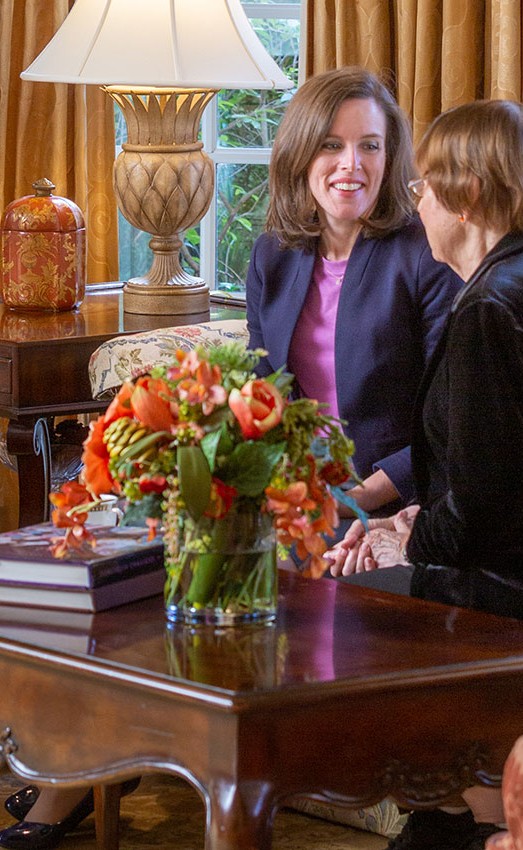 Gatesworth Stories —
Questions to Ask in Your Search for Senior Living
Resource Guide for Active Seniors
Looking for the right senior living community can be a daunting process. And with so many options available, it can be difficult to tell which option best fits your unique wants and needs.
Doing thorough research and in-person tours are valuable tools that give you a better feel for a community and help you envision life as a resident—but knowing which questions to ask can be just as important.
Asking the right questions will help you prioritize your needs when researching senior living options and make your next move with confidence. Here are questions you may want to ask on your next senior living tour.
What amenities, services and support does the community offer?
Does the community offer rides to and from doctor appointments? And what will parking be like for you as a resident and your guests? Is there a hair salon nearby?
When touring a senior living community, it's important to design your questions around how you live life. Having a full range of amenities at your fingertips will make life easier, giving you the freedom to focus on enjoying life.
The Gatesworth offers a wide variety of amenities. Continental breakfast, weekly housekeeping, scheduled transportation, in-house cable TV, concierge delivery services, valet parking and specialized fitness facilities at no extra charge, reserved heated/cooled parking and award-winning cuisine are also popular among current residents. Residents are able to create the life they want to live, down to the smallest detail, the choice is always theirs.
What floor plans are available?
What kind of personal touches can I add to my apartment, and can I customize my unit before moving in? Is there space for me to have friends over for lunch or host overnight guests? Having the space to do what you want is essential.
The Gatesworth community features beautifully appointed one- and two-bedroom apartments, giving you the space and flexibility needed to live a full, vibrant life. Residents are encouraged to put their personal touch on their new homes.
What relocation services are available to me when I'm ready to move?
Premier communities will offer specialized support to reduce the stress that comes with moving and to help your new apartment feel like home.
Our move-in coordinator assists with scheduling your move along with choosing and arranging furniture, and anything else that's needed to help you feel truly settled from the moment you walk in your front door.
Is this a rental or investment community?
What information can you give me about living costs and any additional expenses?
Not all pricing structures are created equally, so it's important to understand the full financial picture when deciding whether a community will work for you.
At The Gatesworth, financial freedom is an important aspect of the active senior lifestyle. Our community is a rental community with no entry or endowment fees, which means you are free to keep, spend and invest your money as you see fit. You are not at risk for the future financial success of our community.
Do you currently have a waitlist for future residents?
If so, how long is it and when might you have available space?
Senior living communities that offer more amenities and service options tend to be more popular, and with that can come waitlists. Knowing how a community's waitlist typically works will help you in timing your move.
The Gatesworth is always delighted to welcome new residents and continue growing our community. However, it's best to inquire with our staff to see when a particular apartment-style, or other specific opportunities, may be available to you.
How long has this community been around?
A long history of excellence and stability is the one of the greatest testaments to a community's commitment to their residents and a sign that they'll continue following through on their promises.
For decades, we have provided an unmatched depth and quality of service that make Forbes Magazine, Ladue News and other renowned publications name The Gatesworth as one of the Best Retirement Communities in America. But it's our residents, and their enjoyment of life, that's our greatest show of success.
Can you introduce me to some of your current residents?
Chatting with those who currently live in the community will give you unfiltered testimonials and immeasurable insight. Speaking with residents about their favorite parts of community life will help you determine if it's as good as it looks from the outside.
At The Gatesworth, we're delighted for you to meet our residents that may one day be your neighbors!
Is this a CCRC community?
While independent living may be the right choice for you now, your need for support will inevitably change with age. You may eventually need more advanced care services such as assisted living, memory care or skilled nursing. It's important to know how a community is prepared to help you through these life transitions.
The Gatesworth is a trusted Continuing Care Retirement Community (CCRC) in St. Louis. Support for residents extends far beyond our independent living community for active seniors. Through our family of communities, we offer current and future residents the full continuum of care—including assisted living, memory care and skilled nursing.
We are here to support you in any way possible as you search for a senior living community. Our staff is readily available to answer any questions you may have about our community, and we will help you explore the endless possibilities that life at The Gatesworth offers.
We are excited to announce that The Gatesworth community is growing, and we're welcoming new residents! To learn more about life at The Gatesworth, call us at (314) 993-0111 to schedule a personal visit.