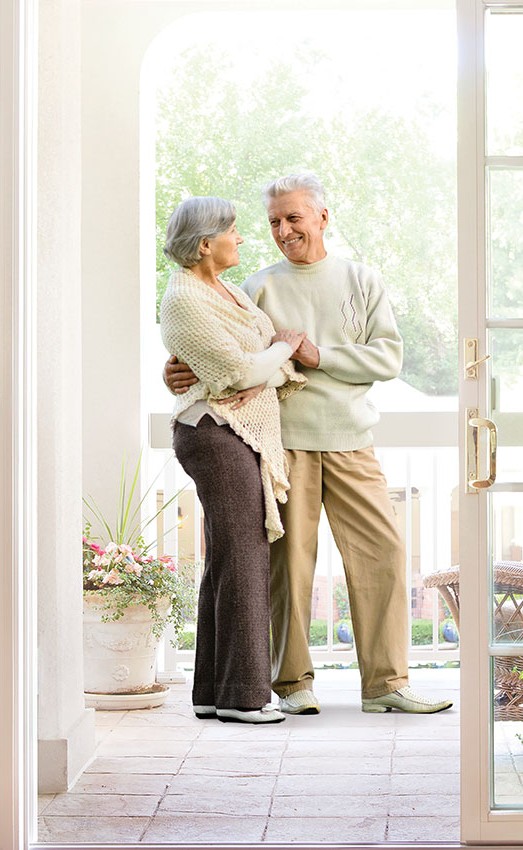 Gatesworth Stories —
Quality of Life Matters
Independent Senior Living
For most of our lives, the question of where we live matters. We might choose mountains or water, an urban area full of cultural opportunities or a suburban or rural community with plenty of space for moments of serenity. But how we live also counts, for it accounts for what we do with the days we have. Some of us are quiet readers who opt for contemplative walks; others are vibrant movers, filling days with social engagements and gym sessions. The point is this: Quality of life matters. Where we live and what we do help define who we are. And as we age, those questions of where and what may be more crucial.
Quality of life while aging
In our later years, questions about independent living rise to the surface, often taking precedence over other important aspects of life. The statement "I want to remain independent" becomes a sort of anthem for active seniors who are beginning to adapt to the differences aging makes in their daily lives. And we hope to avoid living in long-term care communities, where we perceive we may lose our independence.
What if maintaining the yard becomes too much, or if driving a car is no longer safe? What if we can continue our gym routine, albeit with some modifications, and enjoy dinners with friends, the theater and continuing education? How do we balance the inevitable differences that aging brings with the desire and ability to live a fulfilling life?
For many of us, the answer lies in this phrase: independent senior living. But too often, the communities that define themselves this way are wrongly perceived as last-resort, long-term options that represent loss. The truth is that a community truly designed to support independent senior living offers the exact opposite. These communities exist to help people as they age, offering the freedom to live as one chooses. In other words, the difficulty of lawn care disappears, and accessibility to convenient transportation pulls up to the curb.
Independent senior living communities offer so much more than that. At The Gatesworth—the St. Louis area's premier independent senior living community—you'll find restaurants (or dinner delivered to your door), a movie theater, a well-appointed spa, workout facilities, educational classes and lectures on-site and music concerts—plus a home custom-designed to meet your particular specifications and needs. The Gatesworth isn't about loss; it's about living an active and independent life as a senior.
Making the choice
If you talk to people who have chosen an independent senior living community as home, you'll likely hear this phrase repeated over and over: "I wish I'd done it sooner." They may tell you their lives have only gotten better, that they don't miss the complications of owning a home. Many will say their lives have become more simplified in some ways and so much fuller and more rewarding in others. Life in a community like The Gatesworth offers opportunities to expand life rather than limit it, to have more like-minded friends and neighbors rather than fewer. 
Whether you're considering making The Gatesworth your home, or another independent senior living community, it's imperative to get the answers to questions you'll have about financing, designing your new home and making the transition. The Gatesworth will introduce you to a specialist who will work with you to make the transition as smooth as possible, answering all your questions along the way.
Getting acquainted
Any reputable independent senior living community offers tours to prospective residents. Set aside a morning or afternoon to tour the grounds, inspect the amenities and meet some of the people who will become your neighbors. The Gatesworth invites you to contact us today. The sooner you get your questions answered, the sooner you can take advantage of all that life at The Gatesworth has to offer.