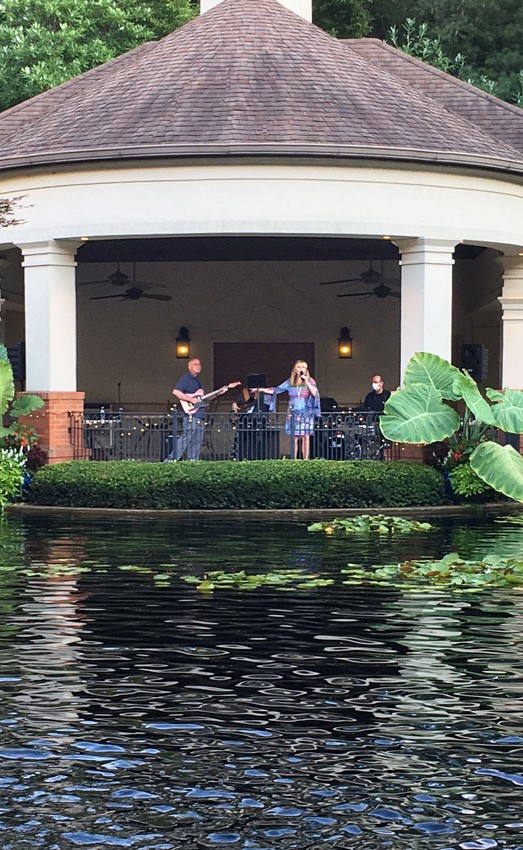 Gatesworth Stories —
Live Entertainment for All
Introducing Live! From The Gatesworth
Community has never been more important than during the COVID-19 pandemic, and nowhere is that more true than in senior living communities across the country. The Gatesworth has come up with an innovative and exciting way to keep that community spirit alive, even during this time of social distancing.
"Live! From The Gatesworth is an exciting new live entertainment series that we're bringing to life for our residents and their friends and families to enjoy," explains David Smith, co-owner of The Gatesworth. "It's streaming live content – musicians, entertainers, demonstrations, expert speakers and more – captured right here on our beautiful grounds."
Everyone is able to participate in this free content, broadcast from the senior living community's website. Residents can expect quality content, with a wide array of material and maybe even a few surprises. The goal is to give residents a chance to step outside the everyday and to share these experiences and memories with family and friends, as well as to help residents' family members feel as if they're a part of The Gatesworth community.
"Live entertainment has been a part of life at The Gatesworth for a long time," Smith says. "We're always looking for fun and engaging ways to enrich the lives of our residents, and bringing in the symphony [for example] to do a special live set just for them. It has been something we've always done."
When COVID-19 hit, The Gatesworth realized that residents would have limited access to things like live entertainment. "That's when it occurred to us – why not share this amazing content?" Smith confirms. "Live! From The Gatesworth was created to delight our residents and give them a series of fun and engaging events to look forward to. It is curated entertainment, selected specifically for broad tastes; there's sure to be something for everyone."
Planned acts include music – anything from bands and vocal performances to symphony orchestras – as well as demonstrations on cooking and a variety of performances for the whole family to enjoy. "No two will be the same, and we'll constantly be updating our calendar," Smith says. The Gatesworth's social media will be updated regularly with what is to come.
All live performances will continue to follow Centers for Disease Control and Prevention recommended guidelines for social distancing, face coverings, sanitization and regular wellness checks. "We wouldn't do Live! if we couldn't do it with the utmost safety in mind," Smith says. "Let there be no doubt."
Live! From The Gatesworth can be shared with everyone in the St. Louis area – and beyond – completely free of charge. "We can always use more joy in our lives, and Live! is The Gatesworth's way of sharing the joy of our residents and community with family and friends everywhere," Smith says, adding that this also serves as a chance for people to see inside The Gatesworth and get a feel for what life there can be like.
"We're very excited about Live! From The Gatesworth's potential," Smith concludes. "We're going to let it take on a life of its own. As long as our residents and their friends and families are having fun and enjoying it, we'll keep it growing!"
Text based on an interview by Maggie Peters in Ladue News