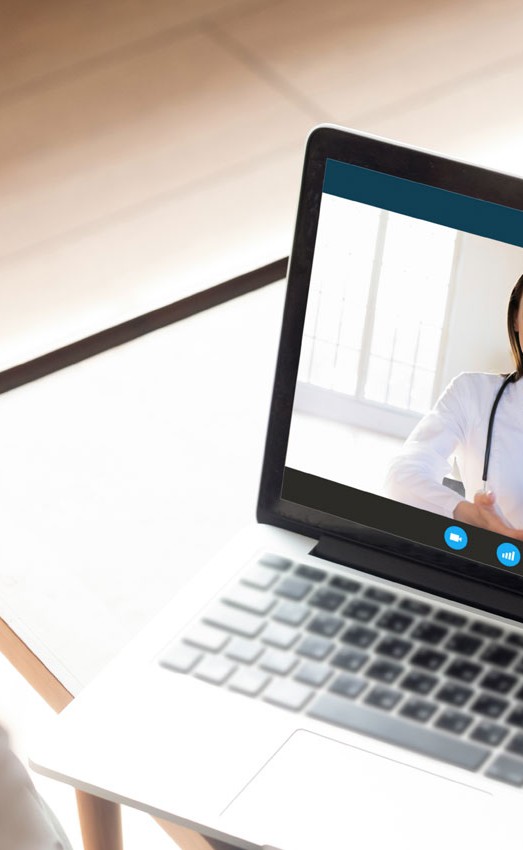 Gatesworth Stories —
Is Telehealth Right For Seniors?
Health Care Options While Social Distancing
The public health crisis resulting from the coronavirus pandemic has challenged us to find new ways to interact with each other, including our physicians and health care providers. With stay-at-home orders in place, there has been a dramatic increase in the use of telehealth, a viable option for older adults.
 
What is 'Telehealth'?
Telehealth, broadly, is using technology like video conferencing to connect with health care providers. Often used interchangeably with telemedicine, telehealth offers providers a way to continue regular checkups and visit with patients despite social distancing.
How it Works
Each provider is different on which video conferencing app or website they use, but you will typically need a computer, smartphone or tablet with a camera and microphone for the visit. When scheduling the appointment, you will want to confirm with your doctor's office the details for how the visit will be conducted, as well as the security of the technology they use. You should also confirm coverage with your insurance provider prior to the visit.
Telehealth can address the following types of care:
Primary and follow-up care
Home-based care
Mental health care
Urgent care for non-life threatening issues
Telehealth Benefits
One perk of telehealth—and a reason many experts say patients will demand more even after social distancing—is the convenience. Without leaving the comfort and security of your own home, you can still receive the medical attention you need. Two-way video conferencing is used to communicate between patients and their doctor. Keep in mind, though, that lab tests, blood draws, and other procedures will still need to be done in a medical facility.
Healthcare via telecommunication offers many benefits to seniors, including:
Decreased exposure to germs frequently present in medical offices or hospital waiting areas
Minimized unnecessary hospital and medical visits
Reduced medical travel costs
Easy access to ongoing support to patients and family members
Increased the chances of continued independent or senior community living
Decreased wait time for appointments
Telehealth Disadvantages
Along with anything else, there are some cons to telemedicine, such as:
Reduced in-person visits with doctors and may lead to missing key symptoms or concerns
Requires technical ability and access to technology which may be difficult for some seniors
May not always be covered by insurance
Telehealth and Insurance
It's important to check with Medicare and health insurance providers to see if Telehealth is covered under your medical plan. Since the COVID-19 pandemic, coverage for telehealth may have changed.
24/7 Care Team at The Gatesworth
At The Gatesworth, staff continues to support residents' health and wellness needs, offering 24/7 Personal Care support. The Gatesworth has created a special "Care Team" comprised of staff members who make individual calls to residents each week followed up with a kind note. 
Residents may contact Personal Care with any immediate health concerns, and it is also recommended to reach out to your primary care physician with any questions.
The health and wellness of residents is the number one priority at The Gatesworth.  If you would like assistance in setting up telehealth services, please contact us directly at 314-993-0111.