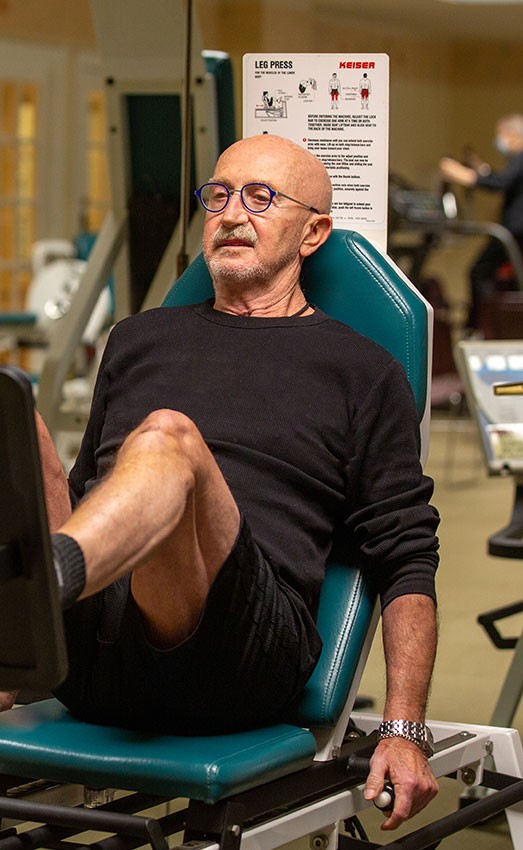 Gatesworth Stories —
Inspiring Active Lifestyles
Wellness is a Way of Life at The Gatesworth
For residents of The Gatesworth—St. Louis' premier senior living community—wellness truly is a way of life. And after more than three decades, The Gatesworth continues to provide the best in independent senior living.
The standards of personalized service are unmatched, and the highly trained staff is empowered to do all that is necessary to make the lives of the residents more convenient, enjoyable and active. The Gatesworth embraces the mantra wholeheartedly: "The Answer is Yes—What's the Question?"
It's All About Choice
"The Gatesworth inspires a vibrant, active lifestyle where residents continue to explore new interests, build friendships and embrace their independence," Executive Director Carrie Montrey says. "Residents can engage in as much or as little as they want. The choice is always theirs."
The goal is to help residents feel secure and more balanced with every step they take. Residents can enhance their fitness with regular workout sessions with a personal trainer or attend one of many daily, complimentary group classes in the state-of-the-art fitness center; swim laps in the indoor saltwater pool; build balance and strength with yoga or tai chi; or relax while painting in The Gatesworth's beautiful art studio.
Resident Daniel Willis says, "Thanks to The Gatesworth, fitness is still a huge part of my life." He appreciates the freedom of choice. He chooses to participate in two fitness classes each day. He also enjoys watching movies with friends at the Starbird Theatre. 
Besides serving as The Gatesworth's movie theater, the Starbird Theatre is a top-notch setting for presentations by guest speakers, docent previews of upcoming cultural events, worship services, monthly book reviews, lecture series, live entertainment and more. 
"I feel so pampered here," Willis adds. "I continue to do everything I love, and the staff here takes care of everything else. There's truly nowhere else I'd rather be."
Living Your Best Life
The Gatesworth has everything residents need to sit back, relax and enjoy life. Spa | One provides a complete selection of health and wellness, beauty, fitness and relaxation treatments and products, exquisitely packaged and specially designed for residents. From massages, facials and body treatments to hair and nail services, there is everything you need to look and feel your best.
The community makes it easy to enjoy healthy, delicious meals without leaving the building. Residents can choose from casual or fine dining in one of three on-site restaurants or order room service delivered to their homes. Award-winning Executive Chef Brian Hardy and his team start with fresh, local ingredients and handle prep work in-house to create culinary masterpieces.
Featuring beautifully appointed one- or two-bedroom apartments for lease, The Gatesworth provides residents with complete freedom and flexibility. There is no commitment to buy or entry fees. As part of the community's unparalleled personal service, a move-in coordinator helps make the transition to The Gatesworth easier. Residents also can customize their apartment homes to suit their tastes.
Discover The Gatesworth and experience exceptional senior living for yourself. To learn more, call (314) 993-0111.