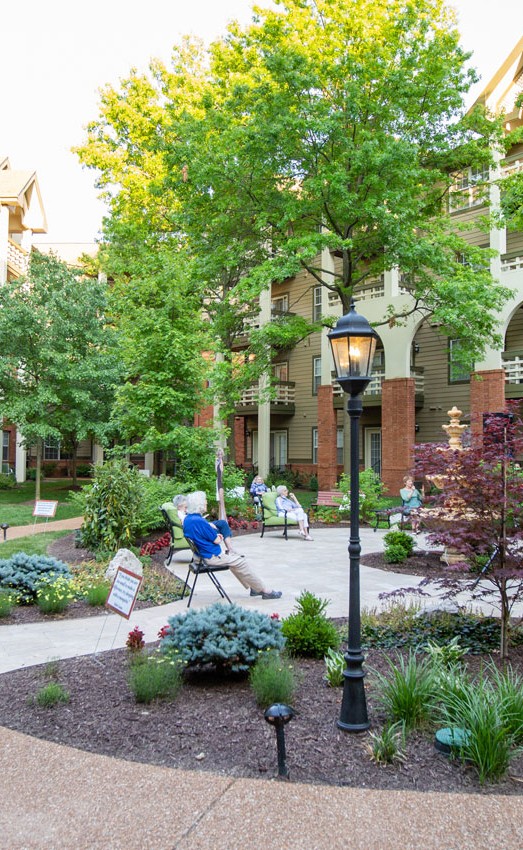 Gatesworth Stories —
In High Spirits: The Gatesworth
Staying Active and Engaged
When times are uncertain, residents at The Gatesworth retirement community can rest assured that their practical and personal needs will be cared for at every turn. And there is always plenty of fun afoot to help them stay active and engaged, according to Donna Meyer, assistant director of resident programs.
One of the staff's main goals is to keep seniors personally connected while staying socially distant, Meyer explains. "Planning safe activities during the pandemic has been challenging, but we have approached it with creativity and adaptability," she says. "We encourage residents to take advantage of the community's incredible outdoor spaces and walking paths, and there are plenty of carefully planned social gatherings to enjoy."
The fitness center helps residents stay physically active, and there are endless opportunities for socially distanced classes, discussion groups, book clubs, sing-alongs and Bible study sessions. Meyer says her team also focuses on helping seniors take advantage of technology to preserve their connections with family and friends. Even something as simple as ice cream treats shared with a neighbor can keep spirits buoyed, she notes. New movie channels have been added for residents, and there are plenty of opportunities to enjoy chef Brian Hardy's renowned cuisine.
Live entertainment is always on the agenda at The Gatesworth, with a variety of performers gracing its courtyards and pavilion each Wednesday and Saturday evening when weather permits. This past summer, residents enjoyed performances from acts like the Kevin Mitchell 4 band, keyboardist Daniel Smith, violinist Ross Christopher, the Red and Black Brass Band, and Elsie Parker & the Poor People of Paris.
Meyer adds that each apartment features a patio or balcony so residents can enjoy the outdoor music and camaraderie as much as they like.
According to Meyer, The Gatesworth has struck a fine balance between observing safety precautions and maintaining a positive atmosphere during challenging times. "We are all about community here," she notes. "Our team has been working hard to protect residents and come up with safe, creative ways for them to have fun."
Text based on an interview by Julia M. Johnson in Town&Style