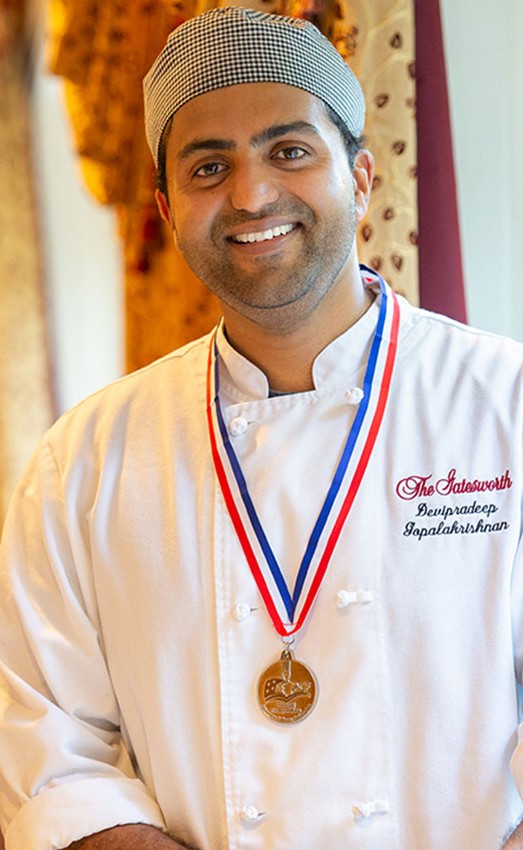 Gatesworth Stories —
Holidays at The Gatesworth
Bon Appétit
No matter your age, there is something magical about the holidays. The wonder of the winter season is on full display at The Gatesworth. The senior living community aims to provide residents with services and luxury amenities to ensure they remain active, happy and comfortable, and that includes month-long celebrations in December. To make the season brighter for everyone, executive chef Brian Hardy and his culinary team are working hard to create experiences worth savoring.
Throughout the holiday season, the community hosts many special events like the Holiday Affair, Christmas Eve and Christmas dinners and a New Year's Eve celebration. Hardy also enjoys just being able to prepare people's holiday favorites. "For Hanukkah, we always talk to the residents about what they would like to see on the menu, including traditional fare like latkes, braised brisket and matzo ball soup," he explains. "We also do special little things like Christmas cookies, hot chocolate and fudge when the community hosts entertainment, such as carolers."
Residents can choose from three dining venues at The Gatesworth. Palm Court is a casual option that is open every day for breakfast, lunch and dinner, The Colonnade is a more formal dining room open for dinner five nights a week, and The Bistro offers Tuscan-inspired fare. Hardy notes that the menus for all three locations are changed on a monthly basis. Residents also can make requests to meet any dietary needs or personal preferences. "We don't buy anything processed, and we butcher our own meat and fish in house," he says. "Everything is made to order, so it's easy to hold the salt or substitute items like whole wheat pasta or brown rice."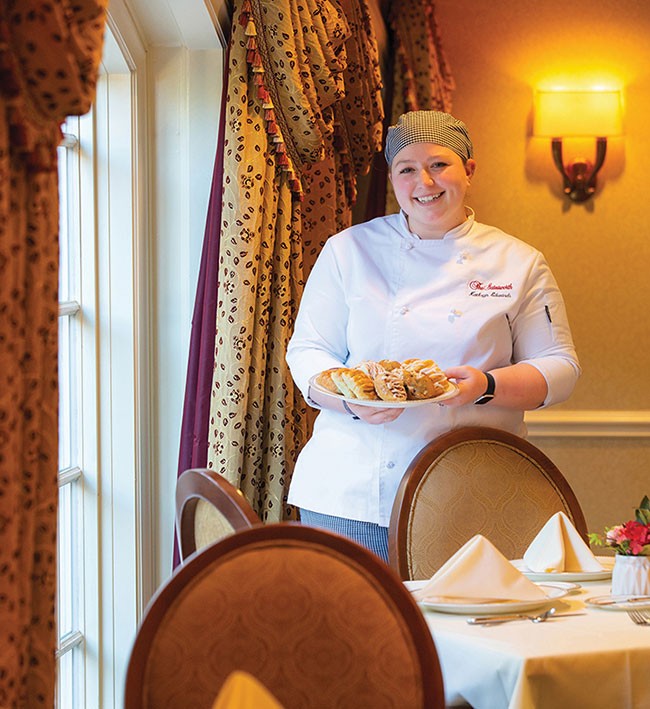 Hardy has been at The Gatesworth for more than 20 years. He finds his work especially rewarding as a chef. "I love cooking and taking care of people," he explains. "Working in a restaurant, you don't get to interact with guests as much. I love getting to know residents and spending time with them every day. The ownership also has always given my team the resources to train and improve. I really enjoy working with young chefs." The impact of Hardy's mentorship is clear. The team has accrued many accolades, and this year, one of the community's cooks was named junior chef of the year by the Chef de Cuisine Association of St. Louis.
The dining program at The Gatesworth is a reflection of how the community aims to put residents' comfort and needs first. "We want nothing but the best for our residents, and if they choose to have their meals in our dining room, they'll be treated to the very finest," says co-owner Bob Leonard. "Like everything else, we want the dining here to feel like a resort. Eating in one of our restaurants is a choice for our residents, not a requirement. I hear all of the time when people move in that their plan is to live here but not eat here. Then they try it, and it becomes their favorite place in town."
Text based on an interview by Stephanie Wallace in Town&Style