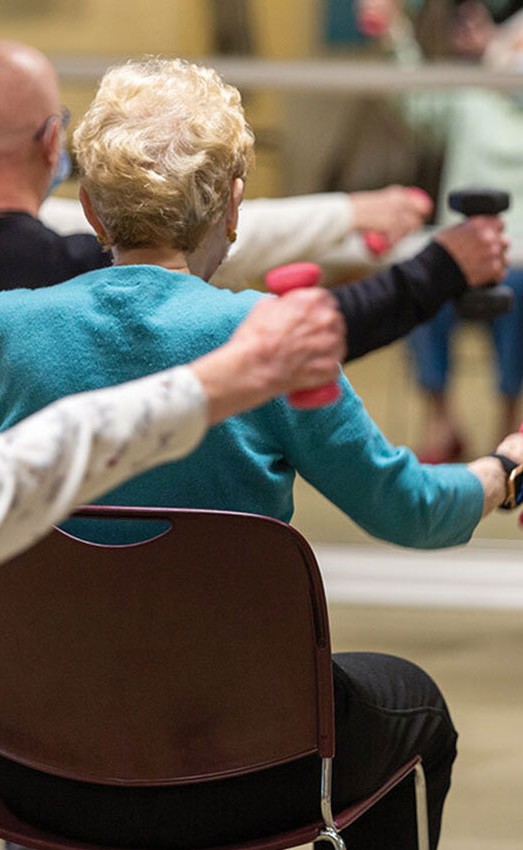 Gatesworth Stories —
Happy, Healthy Lives
Living Life Your Way
You're never too old for New Year's resolutions – The Gatesworth encourages residents to live their best lives, and makes doing so both easy and enjoyable.
At The Gatesworth, wellness is a way of life, where mind, body and well-being are all top priorities. Residents can enhance their fitness routines with regular workout sessions with a personal trainer or attend one of the daily, complimentary group classes in the fitness center. In addition, they can swim laps in the heated indoor saltwater pool, plus continue building a sense of balance and strength with yoga or tai chi.
"The fitness instructors are so caring, just like everyone else on staff," resident Carol Max says. "After class, you can enjoy a soothing massage, facial or manicure-pedicure in the luxurious spa, or shower in the gorgeous locker room, then get your hair done at the salon. There's even a barber shop for the guys."
The Gatesworth's in-house spa, Spa One, provides a complete selection of health and wellness, beauty, fitness and relaxation treatments and products, exquisitely packaged and specially designed for residents.
Spa One's manager, Mary Campbell, joined The Gatesworth team in 2007 and cherishes her everyday interactions with residents. "What makes me happiest is when the residents tell us we've made their day, that they always feel special after being at Spa One and that they have looked forward to the special attention our technicians give them," she says. "Spa One represents a group of caring, kind and capable individuals who make the residents feel at home. The residents love that they have a place to come, relax, be social and get pampered. We strive to exceed their expectations leaving everyone with a smile."
"The Gatesworth is like a self-contained city – whatever you want or need, they'll get it for you," Max says. "No matter what your question is, their answer is always 'yes.' I love it! That's why I moved here."
Max had researched other senior living communities but none could live up to what The Gatesworth offered her. "It's so beautiful and welcoming here," she says. "Your heart skips a beat the first time you approach the entrance and get a glimpse of what lies beyond."
On top of providing fitness and wellness services for residents, The Gatesworth goes above and beyond in its dining offerings. Executive chef Brian Hardy ensures that every resident has the food that is best for them, using the freshest ingredients and crafting exquisite menus.
"We don't buy anything processed, and we butcher our meat and fish in house," Hardy says. "Sodium is a concern for everyone's diet. A lot of times, products may be injected with a saline solution, so that's additional salt. Since we brine, cure and marinate everything ourselves, we have more control. We use herbs to ensure everything is flavorful without having to add more salt. Our cooks are trained to properly prepare vegetables so they maintain their nutritional value. We also can accommodate individual residents' dietary restrictions easily since everything is made fresh. We can cut salt, butter or any other ingredients that may be a concern."
"The menu changes with the seasons," Max says. "Chef Brian Hardy and his staff prepare all kinds of delicious dishes for us, and people with special dietary requirements can order whatever they need. The atmosphere and camaraderie are always wonderful."
From fitness classes and wellness services all under one roof to meal offerings that are as healthy as they are delicious, The Gatesworth has everything residents need for happy, healthy lives in 2023.
Text based on an interview by Maggie Peters in Ladue News