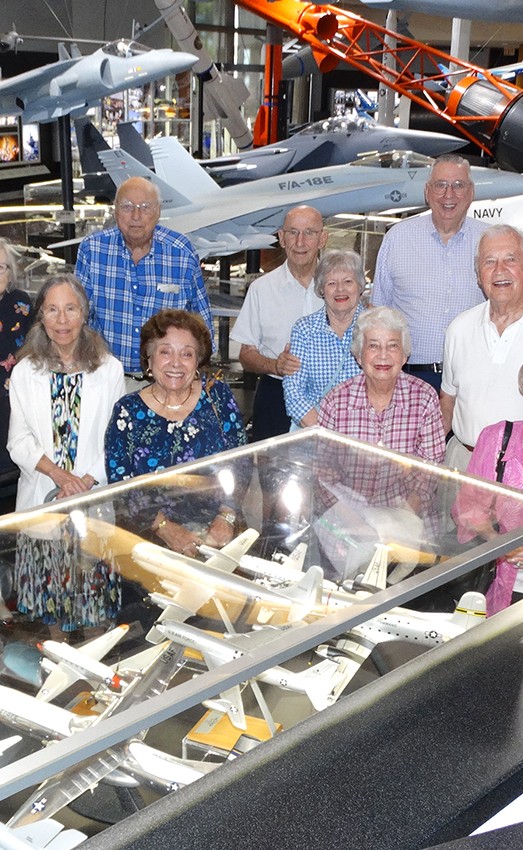 Gatesworth Stories —
Gatesworth Residents Visit Local Air & Space Exhibit
Boeing's Prologue Room highlights the world's largest aerospace company.
As an active and engaging independent-living community, The Gatesworth coordinates St. Louis-area outings for its residents each month. A group recently visited The Boeing Company's James S. McDonnell Prologue Room, which is less than a mile from the St. Louis Lambert International Airport.
Shaping the History of Aerospace
The Prologue Room portrays milestone events and displays models of aircraft and spacecraft that played pivotal roles in shaping the history of aerospace. Hundreds of scale models, dioramas, paintings, photographs and videos tell the story of the companies that make up Boeing.
Residents were able to see full-size engineering mockups of the Mercury and Gemini spacecrafts which carried America's first astronauts into space. Models of the Sky Lab, Space Shuttle and International Space Station are also on display. The museum's video kiosks help visitors learn more about Boeing's products.
America's Biggest Manufacturing Exporter
Boeing, which employs approximately 153,000 people worldwide including more than 14,000 in the St. Louis region, is the world's largest aerospace company. It designs, manufactures and sells airplanes, rotorcraft, rockets, satellites, telecommunications equipment and missiles worldwide.
As America's biggest manufacturing exporter, Boeing supports airlines and U.S. and allied government customers in more than 150 countries. The company products and tailored services include commercial and military aircraft, satellites, weapons, communication and defense systems and performance-based logistics and training.
Free & Open to the Public
The Prologue Room is free and open to the public in June, July and August. Hours are Monday through Friday from 9 a.m. to 4 p.m. Click here for more information.
Learn More About Senior Living
The Gatesworth has been the St. Louis region's premier independent-living community for more than 30 years. Offering the very best in senior living, it features a wide array of spacious rental-community homes, fine-dining options, vibrant programs and unparalleled amenities.
No appointment is necessary for a personal tour of The Gatesworth, so please stop by. In-home visits are also available. For more information, call 314-993-0111.