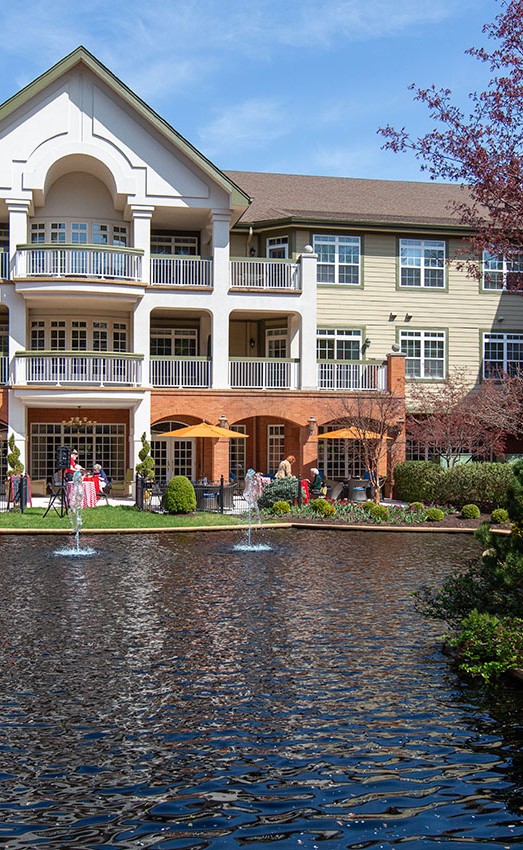 Gatesworth Stories —
Find the Spring in Your Step
How Active Seniors Stay Vibrant through Every Season
The season of radiance and renewal is just around the corner. The vibrant hues, the scent of flowers and freshly cut grass, the bustling wildlife—these are all signs that nature is waking up from its winter nap. As remarkable as it is to watch it unfold in the world, it also offers each one of us a renewed sense of purpose.
We begin to wonder, what little things can we do every day to make our lives better? How can we make life truly magnificent?
While the answers to these questions will vary from person to person and may even change with the season, we do know it doesn't require an extravagant vacation or a big life change. Lasting joy comes from the little things in our everyday life.
Here are our favorite ways that active seniors, or those of any age, can use to keep renewing their zest for life, each and every day this spring:
Garden Meditations

Taking a mindful moment to yourself can make a remarkable difference in your day. It is said that even a couple of minutes of deep breathing and light meditative thought can help increase blood flow to the brain, and in turn, help to boost memory, sharpen focus and decrease stress.

Where and when you meditate is also important. Morning meditations are great for setting a good tone for the day, and meditating around lunchtime provides a nice midday reset. Some also find that meditating outside, such as sitting in a garden, enhances the calming effect.

Find a New Passion

The easiest way to keep the mind active is to spark curiosity and find something you're truly excited about.

This time of year, inspiration for new hobbies is everywhere you turn. Consider taking up bird watching, start creating fresh bouquets for your friends, or channel your inner artist by painting a landscape. Even better, find a friend to explore this new hobby with you.

Indulge Yourself

Whether it involves something new or nostalgic, enjoying a moment of indulgence is key to living a vibrant life. See that show, dance when your favorite song comes on, order that ice cream flavor you loved as a kid—whatever your indulgence may be, don't hold back!

Stretch Your Legs and Mind

Staying active through every season is important for long-term health and happiness. For seniors, it is especially helpful for maintaining strength and joint movement, improving balance and preventing falls. However, it can be difficult to stay motivated.

Taking your exercise outside either with an outdoor fitness class or by simply going for a walk, will help add a little more excitement to your everyday life. Plus, as the weather warms up, there will be new flowers blooming and new growth, and each time you walk outside there is something new to discover.
For Residents of The Gatesworth, spring is a celebrated time of year. As active seniors themselves, they don't hold back when it comes to getting outside and enjoying their lives to the fullest. With a full array of amenities, sprawling gardens and calming water features right outside their front doors—it is easy for Residents to find, and keep, the spring in their step.
To learn more about life at The Gatesworth, call us at
314-993-0111 today!