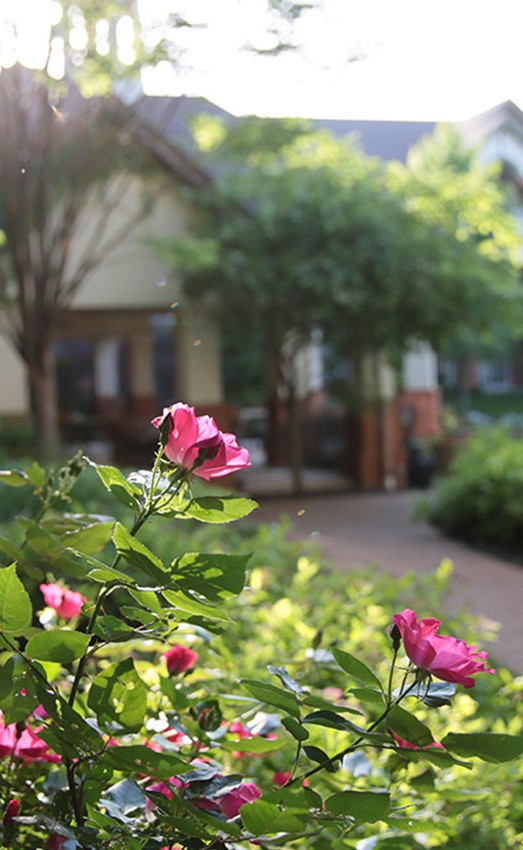 Gatesworth Stories —
Finally Spring
Benefits of Gardening for Seniors
April days are longer and warmer. It is hard to ignore the call of spring—and who would want to? The world turns from a monotone palette—to something far more colorful. Yellow forsythia, red tulips, purple hyacinths, pale pink fruit-tree blossoms. And all that wonderful green. For many of us, it is hard to resist digging around in the newly thawed soil, pruning dead stalks and making plans for a new or improved garden.
Gardening is about more than just enhancing our surroundings with beautiful colors—it can do wonders for your well-being. Did you know that gardening is particularly beneficial for those of us who are of a certain age? It's true—and there's a study to prove it, published by the National Institutes of Health in January 2020. Titled "positive aging benefits of home and community gardening activities," the study looks at ways gardening can affect self-esteem, productivity, social engagement and exercise in seniors.
Gardening—whether in a container, a small square of soil or a large community garden—provides several health benefits:
Fun form of exercise
Improved flexibility
Helps prevent osteoporosis
Boosts sense of well-being through social interaction
Lowers stress levels and encourage relaxation
Stimulates senses by interacting with nature
And whether you plant flowers or pots of herbs, lettuces and tomatoes, you'll have the pleasure of harvesting what you've sown.
To get as much good out of gardening as possible—and avoid the bad—remember to apply sunscreen liberally and stay well hydrated. And pay attention to what your body has to say—if you're tired, take a break.
As a member of The Gatesworth community, meet like-minded planters and pruners. Many residents adorn their decks with pots of flowers and plants. All the benefits of enjoying a garden are here, ready for you to reap. The study cited above notes: "… viewing nature … can positively affect stress recovery, lowering blood pressure and slowing heart rate." Simply being in a garden enhances our lives.
If you're not yet a resident and have questions about The Gatesworth community and all it offers, call us at 314-993-0111. We'd love to introduce you to all the benefits of The Gatesworth lifestyle.