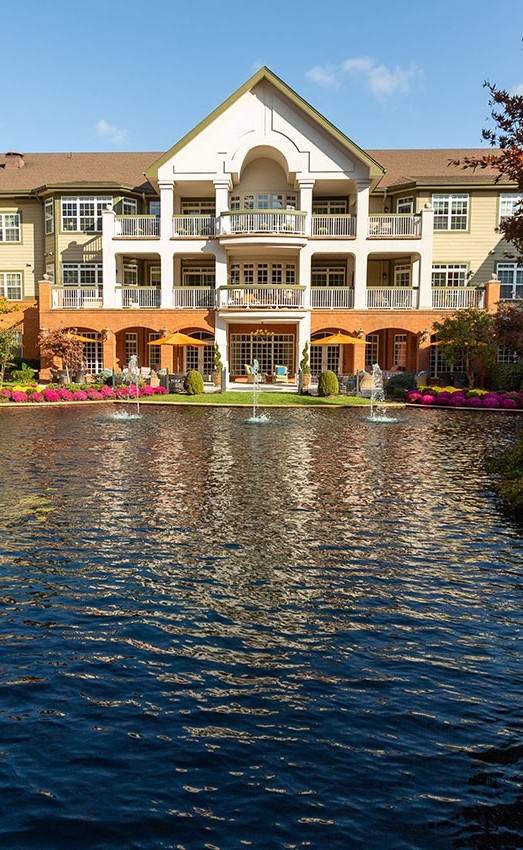 Gatesworth Stories —
Fall Preview
Brilliance on the Way
The Gatesworth is always bustling with activity, and when fall colors arrive, residents truly can enjoy every inch of its sprawling grounds. 
The Gatesworth Executive Director Carrie Montrey speaks proudly of The Gatesworth's outdoor atmosphere. "Fall is such a beautiful season on our campus as residents walk the courtyards and see our trees and plants in vivid color," says Montrey. "More than 1,500 annuals are planted each year, and the grounds feature more than a mile of walking paths, a putting green, a naturally landscaped lake, a reflecting pond and a 45-foot weeping willow." Monterey adds, "It's quite the scene." 
"We have a gorgeous travertine patio with fountain and comfortable seating," Montrey notes. "Our party pavilion offers residents an outdoor space overlooking the reflecting pond, where they can host birthday parties, anniversary celebrations or any party of their choosing. The Gatesworth provides on-site catering for these events from our award-winning kitchen."
Montrey says maintaining beautiful grounds is important to The Gatesworth's staff because of their ongoing mission to create a more homelike atmosphere for their residents.
"Most residents have moved from their own private homes, where they maintained beautiful gardens and grounds of their own," she says. "We want to offer the same lush and inviting outdoor space for their new home at The Gatesworth."
Montrey says many residents comment that they have their very own botanical garden right here at The Gatesworth. 
"The scope and variety of the vegetation and mature trees is unparalleled," she says. "I love so many of the outdoor areas, but one of my favorites is the large natural pond that is surrounded by beautiful mugho pines and a towering willow tree.
Residents live in an elegant space surrounded by beautiful grounds where there are plenty of opportunities to pursue new interests, expand knowledge, embrace independence and build friendships. Please call 314-993-0111 to learn more about life at The Gatesworth.