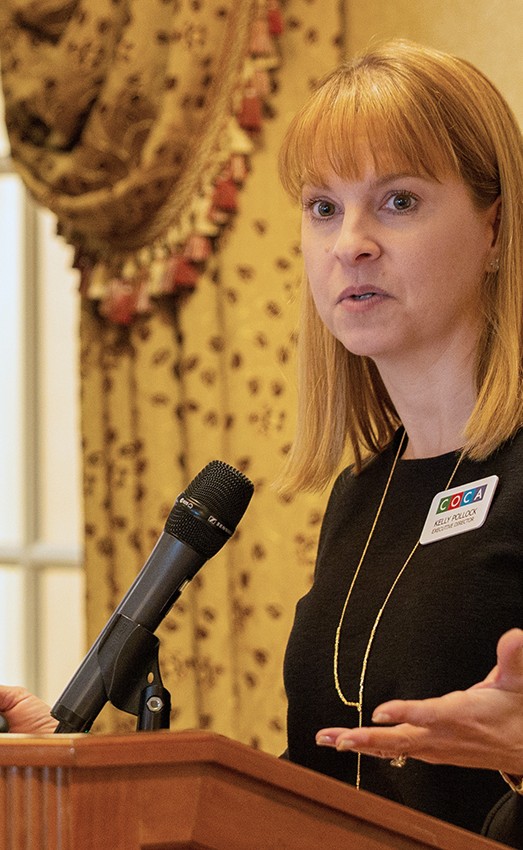 Gatesworth Stories —
Fall Icons Speaker Series Wraps Up
Kelly Pollock from the Center of Creative Arts closes out the presentations.
The Gatesworth's three-part St. Louis Icons Speaker Series recently wrapped up with a visit from Center of Creative Arts Executive Director Kelly Pollock. Residents were previously treated to presentations from Repertory Theatre of St. Louis Artistic Director Hana Sharif and Contemporary Art Museum Executive Director Lisa Melandri.
The Background on COCA
The Center of Creative Arts (COCA), located just off the Delmar Loop at 524 Trinity Avenue, uses the power of the arts and education to build a vibrant St. Louis region that is creative, connected and inclusive. It provides meaningful arts experiences in its studios, gallery and theatres, as well as in schools, community centers and corporate settings around St. Louis.
The fourth-largest multidisciplinary community arts center in the country, COCA annually serves more than 50,000 people of all ages, backgrounds and ability levels. Participants across 235 zip codes and from 40 different schools are trained by a faculty of more than 250 distinguished teaching artists.
Through dance, vocal music, theatre, art and design, COCA is known to nurture the artistic and creative potential in students and the community. The center is accredited by the Accrediting Commission for Community and Precollegiate Arts Schools (ACCPAS).
"A lot of our time and energy focuses on the potential of young people in the St. Louis region," Pollock said during the luncheon. "We work hard to develop complete human beings. We want our building to be a real house of the people. Regardless of age or ability, we want community members to get that warm feeling when they walk in our facility."
A Center with Great History
The story of COCA begins in 1986. Shortly after the B'nai Amoona Synagogue moved to Creve Coeur, the community-based visual and performing arts center took over the vacated building.
COCA began as an arts incubator with studios, a gallery and theater in the synagogue's former sanctuary. More than 30 small arts groups moved in, but much of the building remained empty.
Since 2010, COCA has expanded its reach and impact through innovative new programs that push boundaries, all aimed at building the St. Louis region's creative capacity. It's building remains on the National Register of Historic Places.
Fundraising & Expansion
In early 2017, on the occasion of its 30th anniversary, COCA's Board of Directors announced the Create Our Future Campaign – a $45 million, multi-year effort to fund the capital renovation and expansion of COCA's historic building in University City. The ambitious project ensures COCA will be able to serve St. Louis for years to come.
"It's really all about the students, which is why we are making this major expansion," Pollock said more than a year ago. "We will be able to serve about 20,000 more students and patrons with the expansion. With an increased endowment, we will be able to maintain our commitment to scholarships and accessibility for all of our programs."
Phase 2 of the campaign, which is underway, will extend COCA's current building to the east, nearly doubling its campus, and will include a state-of-the-art, 450-seat theater and community commons room. The project will also provide a safe and accessible location for families to drop off and pick up students. It is set to open in early 2020.
"As we think about the expansion, we are just elated that we are going to be able to build a state-of-the-art theatre for the first time," Pollock added. "We're grateful for that space, and right outside of that will sit a community common space. It's going to be a wonderful addition. We hope to make this a real creative hub for St. Louis."
A Leader Who Has Grown with COCA
For 21 years, Pollock has been an integral leader at COCA. In addition to forging many key partnerships throughout the community, she has expanded the organization's impact through innovative programs while significantly growing its budget reserves and endowment.
Pollock was COCA's development director from 1997-2005 and its general manager from 2006-10 before being elevated to her current post. She earned a bachelor's degree from Washington University in St. Louis and a master's degree from the University of Missouri-St. Louis.
A Staff Member Who Danced Professionally
Antonio Douthit-Boyd, a St. Louis native and former professional dancer, was named co-artistic director of dance at COCA in 2015. For Douthit-Boyd, who began his dance training at COCA as a 16-year-old, it's a story about life coming full circle.
Douthit-Boyd returned to his hometown after 11 years with the Alvin Ailey American Dance Theater. He also trained at the North Carolina School of the Arts, Joffrey Ballet School, San Francisco Ballet and the Dance Theatre of Harlem.
Douthit-Boyd, who has completed multiple training courses and earned several certifications, currently teaches modern dance at Washington University. He joined Pollock at the luncheon and spoke one-on-one with many residents afterward.
Hours & More Information
From September through May, the Center of Creative Arts carries weekly hours of Monday through Friday from 9 a.m. until 9 p.m., Saturday from 9 to 6 and Sunday from 11 to 6. For more information, visit the center online at COCASTL.org.