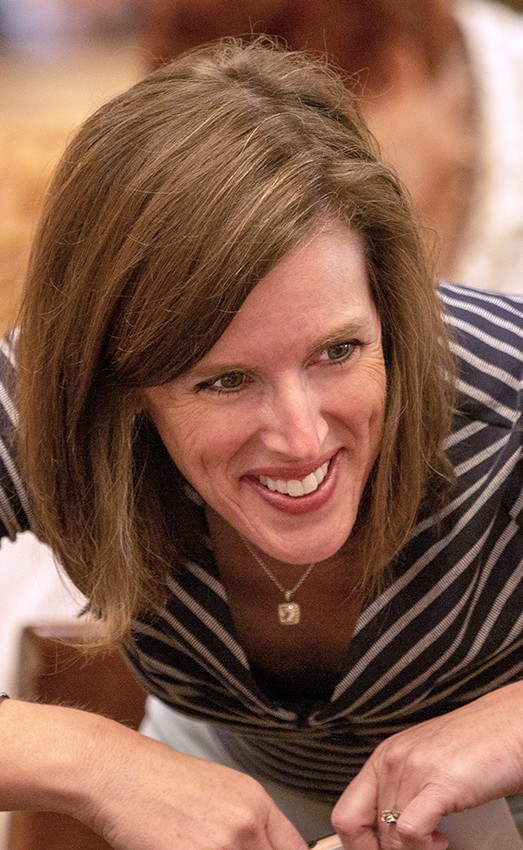 Gatesworth Stories —
Enlightening Conversations Over Breakfast
The Gatesworth's executive director hosts a gourmet meal for residents every other month.
At The Gatesworth, the priority is always the residents. Its dedicated team is committed to listening to residents and sharing valuable information to ensure the community stays exceptional.
One way The Gatesworth engages with residents is by hosting "Breakfast with Carrie" every other month. While enjoying a gourmet breakfast in the Palm Court, residents come together with Carrie Montrey, the community's executive director, to meet new residents and team members, learn more about the activities and amenities available and share ideas. It is a social event the residents look forward to. 
"It's a pleasure to interact with the residents and get to know them better," Montrey says. "This breakfast event is always delightful and gives residents another opportunity to offer feedback and suggestions or talk about a meaningful program or activity they're involved in. At The Gatesworth, we strive to meet every request with exceptional service to make life for our residents more convenient and enjoyable. We're always listening so we can be responsive to our residents' wishes and needs."
Highlights of the Event
The breakfast also offers residents vital health and safety advice as well as timely information. At a recent summer "Breakfast with Carrie," residents learned about how to avoid dehydration, a serious risk for older adults. In addition, The Gatesworth's director of personal care announced the addition of a dermatologist to the community's resources.
Looking ahead to the upcoming holiday festivities, Montrey also reminded residents about The Gatesworth's many excellent services, amenities and private dining rooms and event areas for entertaining family and friends.
Learn More or Schedule a Tour
The Gatesworth offers modern, beautifully appointed one- or two-bedroom apartment for lease to provide residents with complete freedom and flexibility. There is no commitment to buy or any entry fees. 
With premier dining options, a variety of activities, events and entertainment, and unparalleled amenities and surroundings, The Gatesworth inspires an active, vibrant lifestyle where residents connect, expand their knowledge and pursue new interests.
"Our residents enjoy peace of mind and carefree living." Montrey says. "Every detail is considered with personal, exceptional service in a beautiful setting. It's an extraordinary way to live independently."
Experience The Gatesworth today with a personal tour. For more information, please call 314-993-0111.
The Gatesworth is part of a family of exceptional communities that includes McKnight Place Assisted Living and Memory Care, McKnight Place Extended Care and Parc Provence.