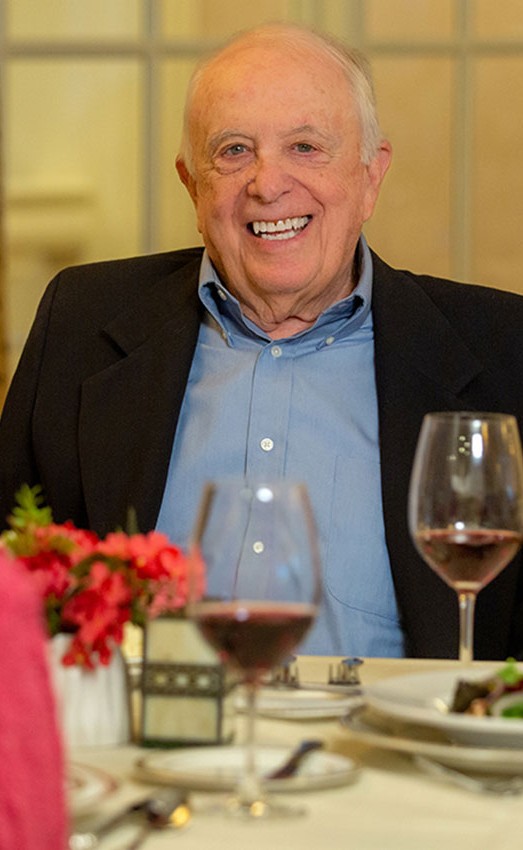 Gatesworth Stories —
Dining at The Gatesworth
Quality, Choice and Excellence
We've heard countless times, "You are what you eat." And it's true: good nutrition strengthens your immunity to fight disease and viruses. Eating a healthy diet without sacrificing flavor is easy at The Gatesworth.
With award-winning, globally recognized Executive Chef Brian Hardy at the helm, delight is always on the menu. Whether formal, casual or somewhere in-between, dining at The Gatesworth is a culinary celebration of great taste, good health and exceptional company.
To Chef Hardy, creating custom menus is about more than meeting dietary requirements; it's about surprise and delight, engaging the senses and stimulating the palate. "A healthy, well-balanced, fully customized meal is something every resident of The Gatesworth has always enjoyed," Hardy explains.
In fact, residents say dining is one of the first-class features of The Gatesworth. "The food is always excellent here," says resident Carol Max. "Chef Brian Hardy will cook to order for you if there is something special you would like, which he has done for me many times."
Using only the freshest seasonal ingredients, Chef Hardy not only sets the menus for The Gatesworth's three full-service, in-house restaurants, but he works with the individual residents to customize menus to their individual, unique tastes.
Something for Everyone
Connect with your friends and family in one of our three restaurants, all offering fresh, local and delicious cuisine.
The Colonnade—Formal and elegant, The Colonnade is the place to go when you're in the mood to "dress for dinner." The Colonnade's attentive, knowledgeable staff pairs lavish food with the perfect wine or drinks.
Palm Court Restaurant and Lounge—Bright, casual and open from early morning to evening, Palm Court is the perfect choice for a casual breakfast, lunch or dinner. Enjoy a home-cooked meal freshly prepared from our kitchen along with daily specials, premium liquors and fine wines.
West Wing Bistro—West Wing Bistro features a delicious array of freshly prepared selections, including Tuscan-inspired fare with homemade flatbread pizzas, fresh pasta entrees, choice cuts of meat, crispy salads, fresh fruits and vegetables and tasty desserts.
From Our House to Yours
The Gatesworth welcomes residents along with their families and friends to host gatherings and special events in one of our accommodating community spaces or dining venues.
Our staff will work closely with you to plan every aspect of your event. They will help you create the perfect menu and take care of everything from valet parking to room setup and decorations, as well as any other custom requests.
Residents who dine out with family and friends are invited to take advantage of our unique "From Our Home to Yours" service. This one-of-a-kind takeout service allows residents to bring homemade meals from our kitchen, including fresh-baked pies and turkey dinners complete with all the trimmings!
If you'd rather stay home and leave the cooking to the experts, we can arrange room service or order a meal and have it delivered from a local restaurant. The choice is always yours.
Savor Your Lifestyle
When spending time around The Gatesworth, it's apparent that residents enjoy peace of mind, carefree living and a vibrant, active lifestyle. And with Chef Brian Hardy in the kitchen, they're the inspiration behind some of the finest food in the region. As Hardy says, "It's the residents who keep me at my best and help me generate new ideas to keep the menu fresh. They're my inspiration. We make it as easy as possible for residents to enjoy healthy, delicious meals on their terms."
Taste the difference for yourself. For more information, please call 314-993-0111.