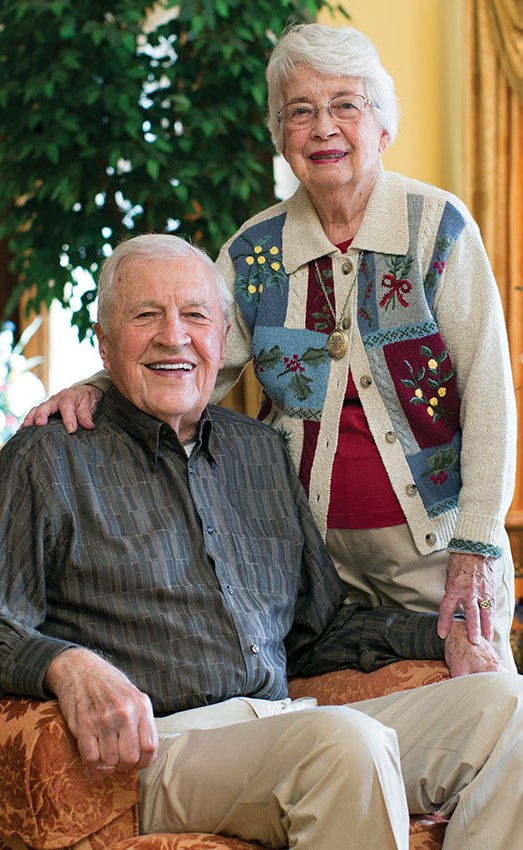 Gatesworth Stories —
Celebrating Together Again
The Holidays Are All About Warmth and Togetherness
From great entertainment to extra-special dining experiences, the independent senior living community is looking forward to once again celebrating the season with Residents, family, friends and staff.
"The holidays are always a big highlight of the year at The Gatesworth," says executive director Carrie Montrey. "We decorate, plan activities and really embrace the season."
The community kicked off this holiday season with the return of its Breakfast with Carrie and Managers event after a 19-month hiatus. As the unofficial start to its holiday schedule of activities, every Resident received a special takeaway gift and enjoyed the sounds of Joe Dreyer at the piano.
Additional ongoing holiday events include Sunday afternoon holiday concerts featuring Anita Rosamond, who leads a "Holiday Sing" with piano accompaniment; a caroling performance with a quartet of local Victorian-clad singers; and classical holiday concerts with combinations of musicians and instruments. The season will be capped by a very special New Year's Eve party.
Another highlight of the season will be The Gatesworth's "Holiday Affair" event that includes delicious dinner specials by executive chef Hardy and music by the Vince Martin Trio.
"Chef Hardy is one of our greatest assets, and his skills shine extra brightly during the holidays," Montrey says. "He's designed a special holiday menu featuring classics and standbys, plus a few new takes on some traditional favorites. Residents and families will be able to dine together this year, which will help make the special creations chef Hardy prepares even more exceptional."
The Gatesworth also has planned many exceptional events for Residents to enjoy. The lineup comprises of special nights out for the residents, including a dinner "Out on the Town" at Sidney Street Café, along with a traditional holiday lights tour by motor coach and holiday entertainment every Friday and Saturday in December.
The Gatesworth prioritizes safety during all events and activities. "There is nothing more important to us than the health and safety of our Residents," Montrey says. "We are taking every available precaution — from regular disinfection to hand-sanitizing, social distancing, wellness checks and so much more. Safety has always been a part of our daily life here. Increasing our protocols has been an effective way to safeguard health and grant peace of mind."
This holiday season, Montrey and the rest of the staff at The Gatesworth are thankful for their Residents and for the opportunity to offer everything from concierge service to excellent social programs all year long.
"Our Residents, family, friends and staff are part of what makes The Gatesworth an exceptional place to call home," Montrey concludes. "Together, we're enjoying the holiday season, as we do every day at The Gatesworth, and we are so grateful to be able to celebrate together this year."
Text based on an interview by Maggie Peters in Ladue News