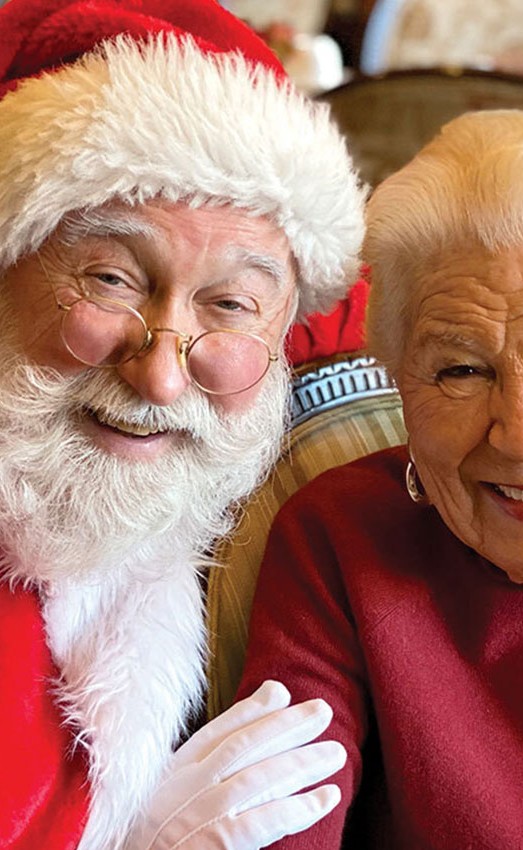 Gatesworth Stories —
Celebrating Together
An Abundance of Holiday Cheer
The Gatesworth, an independent senior living community, strives to give residents a renewed sense of joy, providing a robust calendar of holiday events that brings the entire community together.
"The company of other people and their good spirits spreads through the residents," program director Kathy Davis says. "Everyone is here together and I really think that's one of the things that helps it feel so great." Davis adds that even residents that have family that live far away never feel alone for the holidays because there is so much activity.
The Gatesworth is offering an abundance of holiday events and activities once more. The celebration began earlier this month with a visit from Santa during a special breakfast, where he stopped at each resident's table greeting them personally with gifts and spreading good cheer.
Other events this season include holiday singalongs on Sundays complete with seasonal refreshments; an "out on the town" dinner and visit to O'Fallon's Celebration of Lights; and The Gatesworth Singers Holiday Concert with music director Andy Waggener. In addition, The Gatesworth will offer evening services for the eight nights of Hanukkah and a dinner special on the second night. A performance by the Dancing Santas, which Davis calls "the fastest 10 minutes of fun you'll have in your life," will certainly put one in the holiday spirit.
"The Gatesworth has so much activity for us to pick and choose; those with no children can be as busy as they want to be. People who do have family around can come and go as they please and have family over," says resident Claire Taylor, adding, "I find it perfect – I don't have to decorate!"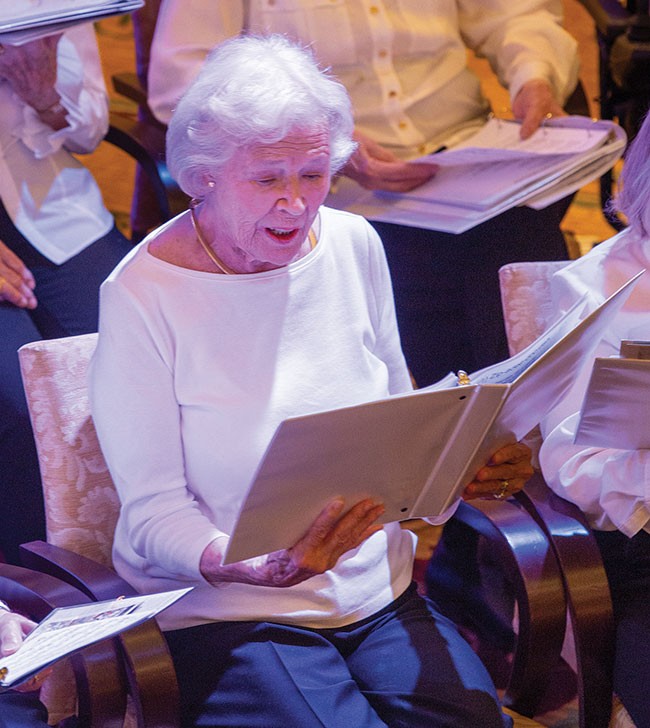 Taylor moved toThe Gatesworth in 2020, just as the pandemic began. She describes how astounded she was by the community moving crew, who handled every aspect of her move. In the two years since, she continues to be amazed by the incredible service provided.
"If you run out of lightbulbs, you call maintenance and they bring them to you," she says. "If your fridge is making a noise, you call maintenance. You don't have to do anything other than call. The staff all know your name. It's almost like a dream."
On top of the excellent staff, Taylor's absolute favorite part of living at The Gatesworth is the feeling of comradery she gets from the community and the activities offered.
"Our residents have the benefit of world-class cuisine, breathtaking outdoor spaces, exceptional services and the opportunity to make new friendships all year, but it is even more apparent during the holidays," says StacyMuehlher, director of leasing. "From a lecture series to yoga classes, we encourage our residents to explore their passions and enjoy everything The Gatesworth has to offer."
"There's always something popping up that people are excited to discover," Davis adds. "People can make their plans. They have more events in their lives – things that are special. My reward is really seeing how appreciative the residents are."
The Gatesworth is giving residents all the comfort and joy of the holidays, with extraordinary service and events.
Text based on an interview by Maggie Peters in Ladue News