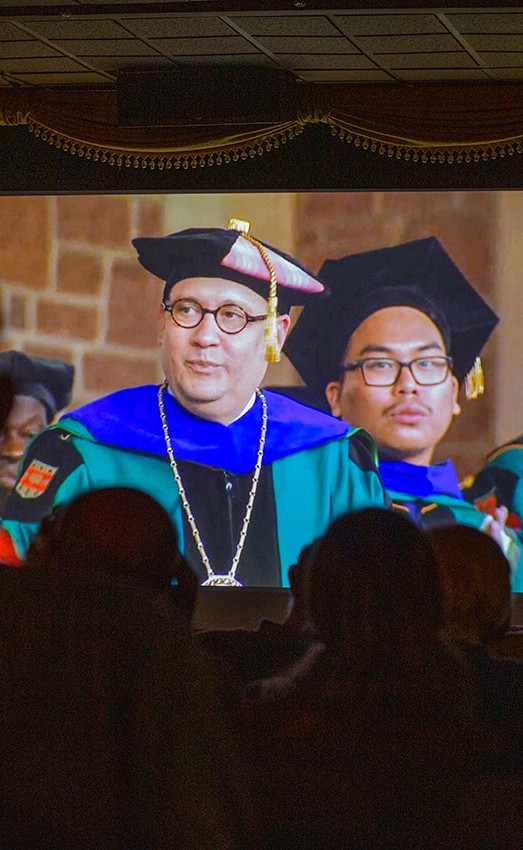 Gatesworth Stories —
Celebrating the New WashU Chancellor
Many residents with ties to the university watched a live video stream of his inauguration.
With modern technology and the art of video streaming, people can watch events and other important content from literally anywhere in the world. And at times, that same technology can be used to watch major announcements less than four miles down the road.
That was the case recently when more than 40 residents with ties to Washington University in St. Louis gathered inside The Gatesworth for a live video stream of Dr. Andrew D. Martin's inauguration. He was appointed the university's 15th chancellor on July 14, 2018, became chancellor-elect on Jan. 1 and officially began on June 1.
The group included WashU alumni, retired faculty, former staff members, donors and family members of current students and employees. The gathering featured a champagne toast and dessert while event coordinators talked about their WashU connections. Everyone then moved to the community's popular Starbird Theatre for the streamed ceremony.
"WashU Has Meant So Much to My Family"
"Washington University has meant so much to my family over the years," one resident said. "We have three generations of WashU graduates, and I'm thinking there will be more down the road. I'm so glad technology allows us to watch today's inauguration. And most importantly, I want to wish Dr. Martin the very best in his new role at my alma mater."
Delegates From Across the Country & World
The inauguration attracted delegates from universities across the country and world. WashU Chancellors Emeriti William H. Danforth and Mark S. Wrighton were in attendance. So were board of trustee members, faculty marshals, representatives from the student body, staff members and alumni.
The Chancellor's Strategic Plan
Martin unveiled his strategic plan and spoke about his vision for the university.
"At Washington University, we are not just committed to getting students to college, we are committed to creating a culture where everyone thrives," Martin said. "Our message is simple: Every Washington University student belongs here, and we are all committed to their success."
One of Martin's top initiatives is the new WashU Pledge, which aims to make the university more affordable. Startup and technology grant programs are now available for students from families with annual incomes of $75,000 or less. The grants cover the cost of computers, books and other college necessities such as winter clothing and housing supplies.
"Our hopes and expectations are these students come to the university, have an exceptional experience and after graduation choose to stay in the region to work, start their own businesses, conduct important research or practice their craft," Martin added. "This will boost the St. Louis regional economy and deepen our local talent pool."
The Background on Dr. Martin
From 2014-18, Martin served as dean of the College of Literature, Science & Arts at the University of Michigan. He previously held a variety of positions at WashU in the School of Law and Department of Political Science. In 2011, he earned an Outstanding Faculty Mentor Award, and, in 2013, notched a Distinguished Faculty Award.
After earning a bachelor's degree in mathematics and government from the College of William & Mary in 1994, Martin completed a doctorate in political science from WashU in 1998.
For more on Washington University in St. Louis Chancellor Dr. Andrew D. Martin, visit AndrewDMartin.WUSTL.edu.