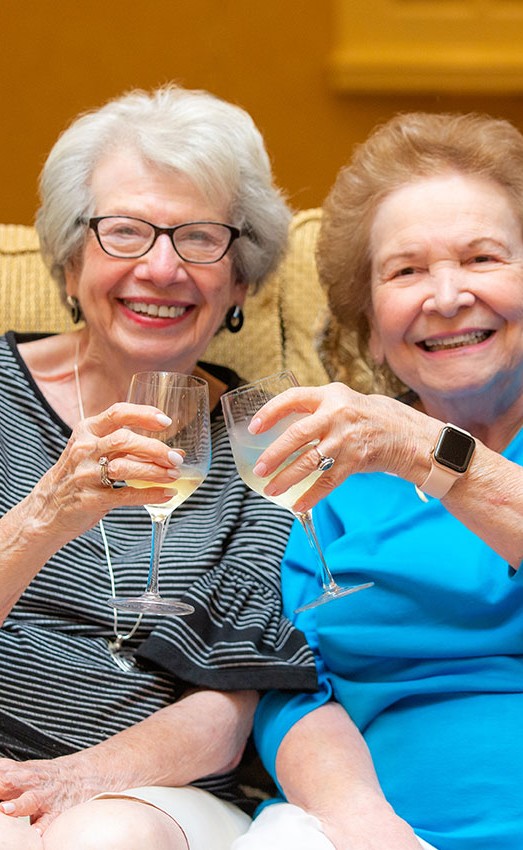 Gatesworth Stories —
Celebrating 35 Years
A Vision of Excellence
In 1988, Charlie Deutsch, David Smith, Elana Spitzberg and Bob Leonard created a senior residential community based on a vision and set of core values that would give older adults freedom and privacy while providing them with well-staffed amenities and personalized offerings to enrich their lives. Today, The Gatesworth continues to honor its founding principles as an award-winning senior living community.
"A passionate commitment to helping seniors maintain their independence for as long as possible drove our decision to build The Gatesworth," Smith says. "Our emphasis was on providing residents with a myriad of choices, aimed to empower them to lead lives tailored to their preferences."
Residents of The Gatesworth have the ability to pursue their favorite hobbies independently or in one of the many classes available, as well as enjoy concerts, lectures, movies and more.
"I really love it here," says resident Berkeley Gunther. "I am a huge gardener and the grounds here are like the Botanical Gardens. I have found species of plants here that I have never seen before."
Resident Jackie Brown adds, "To me, The Gatesworth means a new and productive life with new friends. There is a wonderful energy throughout this place. I love the staff – they make us feel so special!"
The Gatesworth's staff are dedicated to personalized, respectful treatment and are regularly praised for everything from bringing groceries directly to a resident's apartment to learning and remembering each resident's name.
"Beyond qualifications, our management team seeks individuals who genuinely care about supporting older adults and approach their work with a positive and welcoming demeanor," says Leonard. "This, along with the commitment to creating a warm and inviting atmosphere, contributes to the retention of our exceptional staff members."
For resident Kathy Gorman, this dedication included customizing her apartment when she moved from Florida, and for resident Helen Weise, it's helped her feel like she has a friendly community away from her family. The Gatesworth recognizes that residents have unique preferences, needs, and goals; the community puts focus on listening and creating a customized experience.
"Our management team recognizes that residents' insights and opinions provide invaluable guidance in maintaining our community's high standards," Deutsch explains. "The commitment to being responsive to residents' needs is reflected in the saying, 'The answer is yes. What is the question?' This mindset reinforces that resident feedback is actively sought and acted upon, allowing for continuous improvement."
Next month, The Gatesworth will celebrate its 35th anniversary. Festivities for residents, their family and friends of the community will include exceptional food and live music.
As for the future of The Gatesworth, Smith, Leonard and Deutsch continue to stay true to the core values that inspired them to create this community 35 years ago.
"The commitment to choice, opportunity, respect and the empowerment of seniors to maintain their independence remains unwavering," Leonard concludes. "The Gatesworth community strives to enhance day-to-day experiences for residents while embracing new opportunities that align with our foundational principles."
Text based on an interview by Maggie Peters in Ladue News