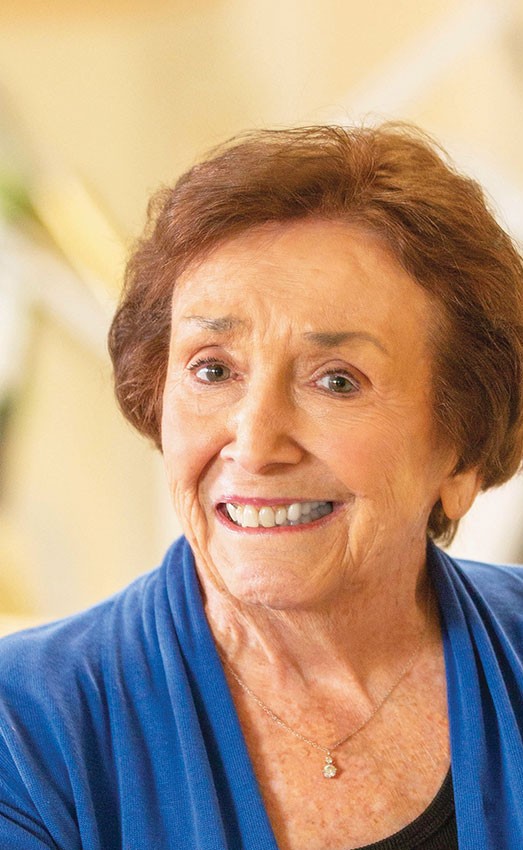 Gatesworth Stories —
The good life looking into the mirror
Delivering innovative services and luxury amenities to suit residents' needs and lifestyles
Right now, it's more critical than ever that we care for ourselves and those around us. That focus on serving people has been integral to The Gatesworth for more than 30 years. The staff, programs and living spaces at the retirement community are constantly evolving to better suit residents' needs and lifestyles. The Gatesworth continues to deliver innovative services and luxury amenities to ensure seniors stay active, happy and comfortable.
Resident Charlotte Wolff has firsthand experience with what it takes to care for others. Originally from Trenton, New Jersey, Wolff studied at the Albert Einstein Medical Center School of Nursing in Philadelphia. She worked in the city for a few years before moving to Durham, North Carolina, to continue her studies. It was there that she met her future husband, Richard, who was from St. Louis. After they wed, the couple moved back to this area, and Wolff spent time working as a nurse at St. Luke's Hospital.
When it came time to make the transition to a senior living community, they looked at various local options, and The Gatesworth immediately stood out to Wolff. "When we walked in, I turned to my husband and said that I felt like we were going on a cruise," she recalls. "That feeling has never gone away. The food, the people, the services, I just love everything here." It's been almost 10 years since moving in, and Wolff still is impressed by the living options and level of care offered by the community. Daily walks, exercise programs and classes in subjects like art and music keep her active and engaged. "All the activities here are wonderful," she says. "There is always something to do if you want it."
Even now that COVID-19 is altering everyone's daily lives, The Gatesworth continues to keep its residents not only safe and healthy but also stimulated and busy. While large groups and classes currently are unable to meet, Wolff says she walks every day, and on Fridays, she is part of a group of five residents who meet for a sing-along. "While there are restrictions about what we can and can't do, these little things make us feel a lot better," she notes. The gym, swimming pool and art room also are starting to reopen with limited capacity. Residents can sign up to reserve those spaces, and time slots are limited to two people.
Wolff has been using phone calls and video chats to stay connected with her family. Plus, The Gatesworth allows visitors to see their loved ones through a specially designated window, where they can talk while maintaining a safe distance. She says this level of consideration is par for the course at the community, and she hasn't had to worry about receiving the support she needs during the pandemic. "The service is outstanding, and I can't say enough about the people here," she explains. "If we have any questions, we know where to go. It's a nice feeling to be able to depend on the staff for whatever we need. It really makes life easier for us, especially now."
Located at One McKnight Place, The Gatesworth provides exceptional retirement living options to encourage an active lifestyle. Pictured above: Resident Charlotte Wolff. For more information, call 314.993.0111.
Text based on an interview by Stephanie Wallace in Town&Style