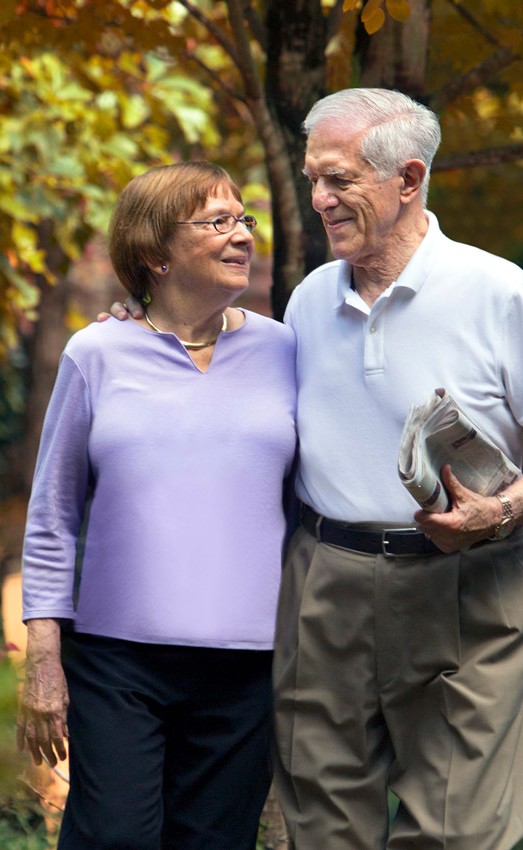 Gatesworth Stories —
Salvatore and Celia Sutera
At The Gatesworth, learning is a continuous journey.
At The Gatesworth, learning is a continuous journey. Residents of the senior living community are able to take advantage of a wide range of programs offered, including the St. Louis Icon Series, which began five years ago. The speaker series features people who have made great contributions to St. Louis. Recently, it hosted longtime St. Louis Post-Dispatch columnist Bill McClellan, for whom the series had a waiting list.
Gatesworth residents Salvatore and Celia Sutera typically attend all of the speaker series presentations.
Celia says she finds all of the speakers interesting and particularly enjoyed McClellan's talk. Salvatore agrees, noting that they follow his column very closely.
"He's such a great storyteller. They've all been so good," she says.
"We were very impressed by their presentations," Salvatore agrees.
The Suteras have found that there is a strong intellectual community at The Gatesworth and are always interested in new opportunities. Through programs like discussion groups, book clubs and the speaker series, residents are able to continue learning and stay up to date on current events.
"It's such a good community," Salvatore says. "We've made so many friends, and the amenities are excellent. We couldn't ask for anything better."
Text based on an interview by Robyn Dexter in Ladue News