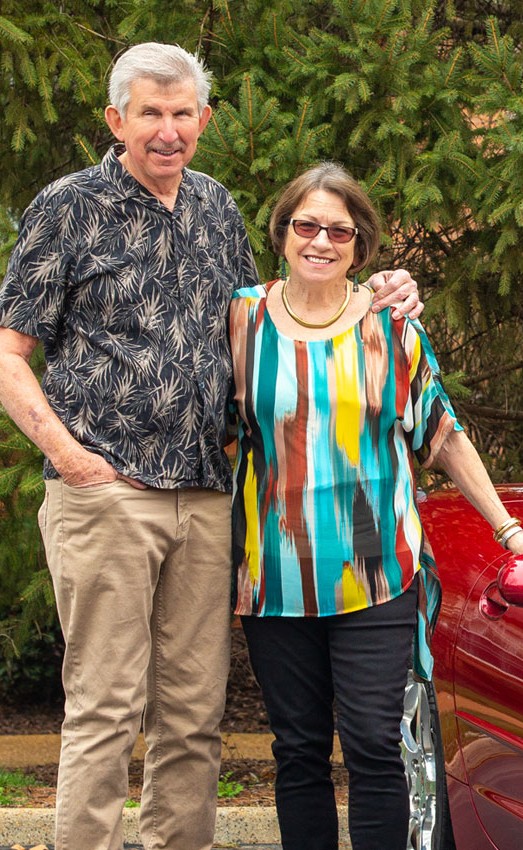 Gatesworth Stories —
Richard and Sharon Owens
The Gatesworth Gives Them the Freedom to be Themselves
Richard (Rick) Owens first fell in love with The Gatesworth, a senior living community, while building its West Wing addition, which was unveiled in 2009 and houses spacious, luxurious residences. He was working with a contractor at the time, and remembers being "just fascinated by how perfect everything was," not yet dreaming of making it his home.
Today, he lives there with his wife of 50 years, Sharon Owens, whom he first met while serving in the Marine Corps, where she worked as a photographer in the base's lab. Even now, Rick Owens' first impressions of The Gatesworth hold true.
"It's the best of the best," he says, and Sharon Owens agrees.
"The people are the nicest you'll ever meet," she affirms.
The couple, who owned a small business together, appreciate the extra care The Gatesworth takes to cater to its residents.
"What makes a business is customer service," Sharon Owens says. "You don't see a lot of this anymore, but The Gatesworth excels at it in every way. The employees all know you by name. They pay attention to what you like and don't like, and know your needs."
The Owenses value that special attention to detail. It's something they prided in offering at their own company, as evidenced by its name.
"We opened a contest to our customers [to give] us a name for our business," Sharon Owens describes. "This lady came in one day. She said, 'I've got the perfect name for you: Personal Touch.' We had several entries, and…the employees all were unanimous in wanting that name because they knew it fit us. It was a compliment."
The beauty of the building may have first attracted the Owenses to take up residency at The Gatesworth, but it was the freedom to be themselves in a safe and well-appointed environment that convinced the couple to stay.
"They've got a lot," Rick Owens says. "You can go for a walk [on] a mile-and-a-half loop. Beautiful grounds—all manicured. They have classes and exercise at the gym. There's a big saltwater swimming pool and hot tub. And everybody's so friendly. You can get together and have a beer, or whatever."
Rick Owens and his wife used to frequent a blues club, so they share a deep appreciation for the live music entertainment provided at The Gatesworth, which reflects the wide range of music they enjoy, from blues to country western and soft rock 'n' roll.
Sharon Owens looks forward to when The Gatesworth can open up card games for residents once more, but has found joy in its other offerings, including a ping-pong table and a pool table. The Owenses agree that every area of life is maximized within the community.
"The food is excellent," Rick Owens says. "We have an award-winning chef."
"Anything you want is here," Sharon Owens agrees.
"I've got one thing to describe it by," adds Sharon Owens. "[The Gatesworth is] retirement at its finest."
Text based on an interview by Amanda Dahl in Ladue News