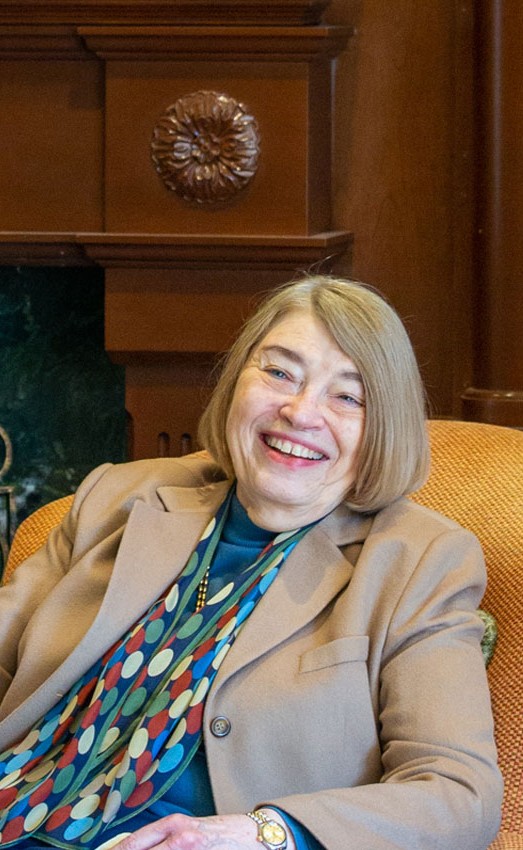 Gatesworth Stories —
Mary Mennig
Enjoying The Good Life at The Gatesworth
Right now, it's more important than ever that we can find safety and contentment at home. It's why Mary Mennig decided to make the move to The Gatesworth. For more than 30 years, the retirement community has been dedicated to offering its residents innovative services and luxury amenities to ensure they remain active, happy and comfortable.
While Mennig originally is from the Midwest, she moved to California in the 1970s where she studied business at the University of Southern California. There she met her husband, Jan, who worked as the chief of police in Culver City. They both excelled at their careers, and Mennig says they always took time to expand their horizons through art and travel. After retiring, they decided to escape the hustle and bustle and move just outside of Yosemite National Park. "The whole county didn't even have a streetlight, and if you wanted to see a play, the high school had to be putting one on," she recalls.
The couple started taking regular trips to San Francisco and realized they wanted a more urban lifestyle. "We investigated and found that St. Louis was the ideal place to move, even though we didn't have friends or family in the area," Mennig says. "We settled in the Central West End, which was wonderful because we were close to things like theater, music and museums." When Jan passed away last year, Mennig knew it was time for another transition and started looking at independent living options. She wanted something with top-notch amenities, plenty of opportunities for socialization and a central location.
The Gatesworth met all Mennig's requirements and more. "They have absolutely everything a person could need; it's just fantastic," she says. "Plus, the community is in a great location. I easily can access all of the venues I love in the city." Along with amenities like the beautiful grounds and walking paths, the fitness center, pool and world-class dining options, little touches stood out to Mennig. "There is a place where you can pot your plants without worrying about getting soil all over your apartment," she notes. "It's wonderful that they think of small things like that to make people happy."
Mennig moved to the community in February. The staff ensured that the transition was as smooth as possible, start to finish. The Gateworth has a move-in coordinator who helps residents every step of the way. Mennig opted for an additional service that included assistance with unpacking and organizing her new home. "When I walked in the door, everything was in place," she says. "I didn't have to go through the hassle of moving."
Everyone at the community has been very welcoming, and Mennig is looking forward to more social opportunities in the future, including learning to play mahjong and enjoying happy hour events. "I'm excited to start making new friends, and I can't imagine anyone ever being bored here," she says. "I want to live a good life, and I think The Gatesworth is the place to do it."
Text based on an interview by Stephanie Wallace in Town&Style