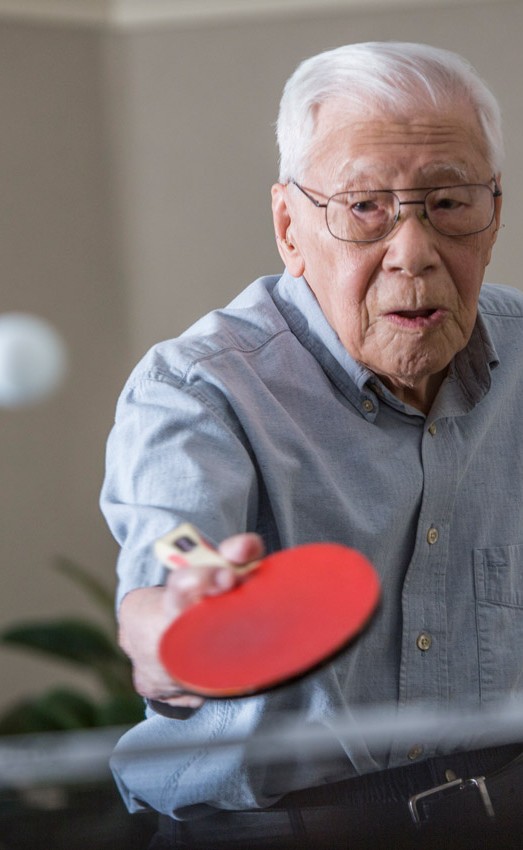 Gatesworth Stories —
Dr. C.C. Tung
At age 97, resident Dr. C.C. Tung is a competitive athlete.
At age 97, resident Dr. C.C. Tung is a competitive athlete. Tung's sport of choice is table tennis, which he's been actively pursuing for the past few years at The Gatesworth.
"I played [table tennis] in China starting when I was 8 years old," he says. "When I turned 15, I switched to soccer."
When Tung came to the United States for his graduate studies, he picked up tennis. He says he played tennis from age 40 to 87 and even competed in the St. Louis Senior Olympics in tennis. A few years ago, though, his friend Wally Bowell said, "Let's play some Ping-Pong."
When Bowell came to The Gatesworth in 2014, she inquired about the table tennis lounge. She played tennis for 60 years and, as she grew older, was looking for something new. She and a small, dedicated group meet weekly for competitive matches. Tung is a part of this group and has been playing three times a week, often with Bowell.
"It's a great exercise for my age," he says. "I just play as well as I can and practice."
Choosing The Gatesworth has enabled lifelong athletes like Tung to explore the types of opportunities they're passionate about and find camaraderie in each other.
Text based on an interview by Robyn Dexter in Ladue News