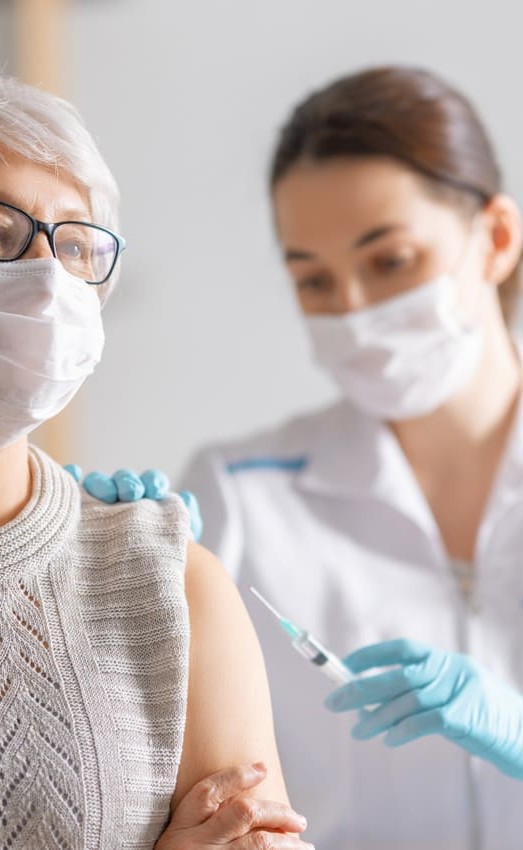 Gatesworth Stories —
COVID-19 Vaccine
Questions, Answers and Resources Regarding the New Vaccine
This story was written one day after the first vaccinations against COVID-19, the illness caused by the SARS-CoV-2 coronavirus, were administered in the U.S. A truly momentous day—one we've all been eagerly anticipating. This first vaccine comes from Pfizer-BioNTech.
By the time you read this story, a second vaccine, from Moderna, Inc., also will likely have been approved by the Food & Drug Administration (FDA). And many more Americans will have been vaccinated: most likely those working on the front lines in hospitals caring for people with COVID-19 and perhaps some of those living in long-term-care nursing facilities.
Just as the pandemic has interrupted the lives of people across the globe in unprecedented ways, the complexities of this national vaccination program are unprecedented. A good deal of planning was in place in states, cities and hospitals throughout the U.S. before FDA approvals, but now that the vaccines are available those plans will certainly be refined and modified.
Answering your questions
At this point, most of us have two basic questions about the vaccinations designed to prevent COVID-19: Are they safe for seniors? And when can I get vaccinated? The Gatesworth team would like to offer you some easy-to-access online resources where you can find experts and answers.
Some good news about safety
The short answer to the "is it safe?" question is "yes." FDA approval means the vaccines were rigorously tested in multiple trials. Though the development and approval processes were accelerated, they were not abbreviated; no steps were skipped.
To learn more about the safety and effectiveness of the vaccines, visit:
News about vaccine distribution
The short answer to the "when?" question is "we don't know." The logistics involved in manufacturing and distributing millions and millions of vials of vaccine are complex, to say the least. But as the process unfolds, more information will certainly become available. We encourage you to stay informed using local and regional news sources. In a few weeks, your primary care physician may be able to answer this question for you. In the meantime, you can monitor the distribution process through a number of online resources, including:
You can also track vaccination updates through local hospitals, as well as medical schools, including:
Stay vigilant
Yes, it seems there is an end to the pandemic on the horizon. But now is not the time to let down your guard. Protect yourself and others in three easy ways: wear a mask, practice social distancing, wash your hands well and frequently. It will take many months for the vaccine to make a difference. If we are vigilant, we can save lives.
As always, we at The Gatesworth are here to answer your questions. Please let us know how we can help.