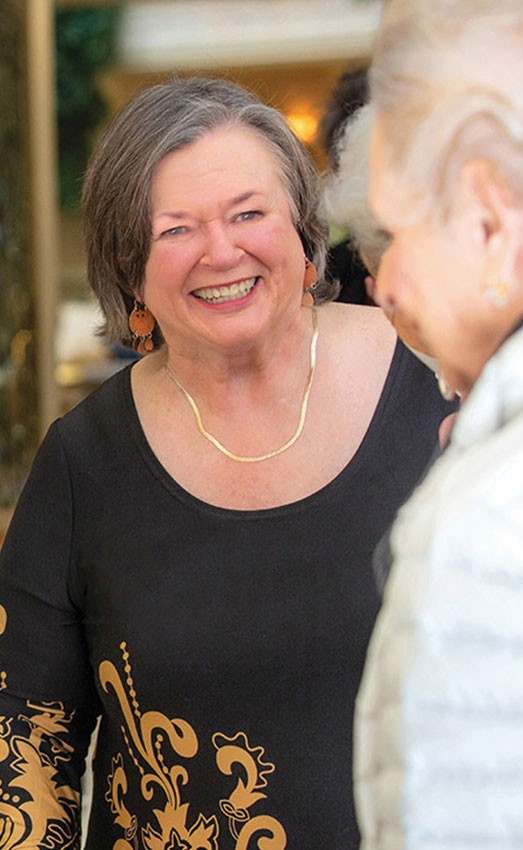 Gatesworth Stories —
Cheryl Thomas
Life Lived Well
For some people, their golden years may be a time to slow down and take it easy, but that's not the case for Cheryl Thomas. As an avid traveler, capable accountant and dedicated mother and grandmother, she likes to keep busy. It's why she decided to make the move to The Gatesworth. For more than 30 years, the retirement community has been dedicated to offering residents innovative services and luxury amenities to ensure they remain active, happy and comfortable.
A St. Louis native, Thomas spent one and half years living with the Guna indigenous people in the Darién Gap and San Blas Islands in Panama in the early 1970s. "I stayed in a grass hut with a hammock and kerosene lamp," she recalls. "There was no plumbing or electricity, and we had to paddle a canoe across the ocean and up a river to get water and wash clothes." After returning to the U.S., she married her husband and started at the insurance agency he had founded. They worked together until his death in 1998. Ever the adventurous spirit, she found living on her own to be boring and less fulfilling.
In November of 2021, she made the decision to move to The Gatesworth. The community appealed to her because of the lush grounds and gardens and wide variety of programming, such as live music performances, day trips, exercise courses and seasonal parties. "There is so much to do here, and I feel exceptionally at home," she says. "I've never been lonely or bored. There is way too much fun stuff to do! I have to give enormous credit to all of the staff and management who have made my living experience so great. Everyone is friendly, listens to your needs and responds in a timely fashion."
Thomas also has rediscovered her love of painting. She picked up the hobby as a teenager, and as an adult, it became a way to relieve stress. She even started teaching other women to paint, but following the death of her mother, she was unable to pick up her brush again—until she came to The Gatesworth. "The moving coordinator convinced me to hang up some of my artwork," she says. "I'd never really displayed my own paintings, but now, they are all over my apartment. I've also participated in an art show and regularly paint in my apartment or go to the art studio. It's so much fun being with peers who are always eager to discuss art."
Thomas' family has noted that living at The Gatesworth has made a real difference. Her daughter Raina Thomas Walton notes there were some initial concerns about transitioning to a senior living community. "We thought she might be too young, and the move may prematurely age her, but it's like she's ten years younger," she says. "Living on her own, she had set a routine of home maintenance, watching TV and occasionally meeting others to catch up. Now, as she would say, her dance card is always full. She went from just letting life pass her by to living it to the fullest."
Located at One McKnight Place, The Gatesworth offers residents a wide variety of ways to stay active and engaged. For more information, call 314-993-0111.
Text based on an interview by Stephanie Wallace in Town&Style