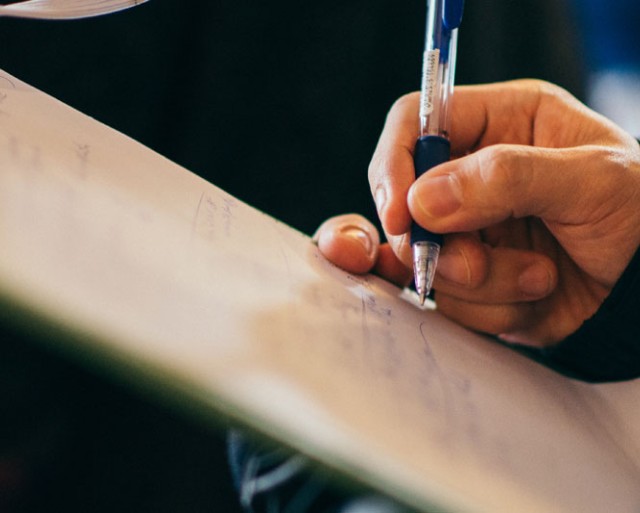 A Response to the Coronavirus (COVID-19)
A Message From Our Executive Director Concerning the Coronavirus (COVID-19) —
A Message From Our Executive Director Concerning the Coronavirus (COVID-19)
A Message From Our Executive Director Concerning the Coronavirus (COVID-19)
Friday, June 19, 2020 (Update) —
Thank you for your continued support and cooperation during these challenging times.
The Gatesworth has implemented innumerable safety protocols and followed all directives from the St. Louis County Department of Public Health, in an effort to keep our community safe from COVID-19.  I am very grateful to residents, families and staff for being so supportive and cooperative during this challenging and difficult time.
St. Louis County has issued an "Amended Residential Living Facilities Order" this week outlining updated guidelines specifically for retirement communities. While we have been planning for our reopening without knowing when St. Louis County would lift their restrictions, we still must be very cautious and slowly phase our reopening over the next couple of weeks. Our top priority continues to be the health, safety and well-being of our residents, staff and visitors. COVID-19 is still a threat and our residents are still considered very high risk. 
The amended order now allows residents to "travel off of the facility premises for specific healthcare treatment and other reasons." Residents who drive may come and go freely. For family and friends picking up residents throughout the week, we ask that you email our reception desk at GWRec [at] thegatesworth [dot] com with your pick-up date and time. We ask that residents do not come to the lobby until their scheduled pick up time. We strongly encourage masks and social distancing during your off-campus family visits for the health and safety of everyone. Gatesworth transportation will slowly return to full service, but we currently offer rides to and from medical appointments only. 
The St. Louis County amended order also allows residents to have "visitors and non-essential personnel on the premises." We continue to maintain the no visitor policy until we can safely re-organize our entries which had been converted to delivery/drop off locations. When the time comes, we will be allowing a limited number of visitors in an effort to maintain maximum social distancing. The St. Louis County Order requires all residents and visitors to wear masks at all times in the common areas and to practice social distancing both inside the building and outside in the courtyards. Likewise, the order requires all visitors to be screened for "temperature and respiratory symptoms." For residents and families that do not feel comfortable with these eased restrictions, we will continue to offer outdoor patio visits, window visits and Zoom chats.
Certain areas in our building have partially reopened:
Art Center 
The Art Center is open by appointment only, seven days a week. Only two people will be allowed at a time to allow for ample social distancing, and stations will be sanitized in between use. Residents will be required to wear a mask.
Physical Therapy
Our inhouse therapy provider has resumed services in The Gatesworth's therapy gym located across the bridge on the 2nd floor. This gym will be used by Gatesworth residents only and the therapists will provide service to Gatesworth residents only. Only two residents will be allowed in the therapy gym at one time, and both residents and therapists will wear masks.
Gift Shop 
Open by appointment only. Residents may schedule a 30 min., one-on-one shopping session Monday through Saturday with the Gift Shop Manager. The manager and residents will be socially distanced and both wear masks.
Fitness Center
The fitness center is open by appointment only seven days a week. Only two people are allowed at a time with a staff person present to ensure social distancing and who also sanitizes the equipment in between each use.
Pool 
The pool is open seven days a week. Resident swimmers are invited to schedule a one-hour session. One resident or couple per session.
Salon and Barbershop (Hair and nails only) 
The salon and barbershop are open by appointment only, Monday through Saturday.
Events & Entertainment
We continue to plan and execute live entertainment and create more virtual resident programming including Current Events, Questers, Book Club and Bible Study. Residents are invited to listen, from their balconies and patios, to live courtyard entertainment featuring a strolling violinist, a Mariachi band and other musical groups.
Zoom & Window Visits
Residents continue to look forward to and enjoy seeing family members via Zoom or through our Club West Window Visits.
We continue to remain dedicated to keeping residents safe. Safety is paramount, but we also want residents to be happy and enjoy as many engaging activities as possible. Our staff remains dedicated to serving and meeting the needs of our residents during this time. 
Our professional, very efficient personal shopper is available exclusively for The Gatesworth's residents to shop at Schnucks, Dierbergs, Straubs, Walgreens and CVS. Providing same-day or next-day service. It will be billed to the resident's Gatesworth statement. Families may also continue to deliver groceries to our contactless "drop table" at our Main Entrance. Please be sure to clearly mark the resident's name and apartment number on the bags. If a resident chooses not to cook, we continue to offer room service for breakfast, lunch and dinner. We are changing the menus regularly to offer more variety. We will also offer dinner specials for the upcoming holidays. 
We know resident families may be worried about their loved one. Our Personal Care department has created a special "Care Team" comprised of staff members who make individual calls to residents each week followed up with a kind note. Please let us know if you are concerned about someone in particular, and we will be sure to reach out and make a connection.
The steps we are taking in our community are based upon the guidelines from the U.S. Centers for Disease Control and Prevention (CDC), St. Louis County Department of Health and Missouri Department of Health & Senior Services (DHSS). To avoid exposure to the virus, health officials recommend that people over the age of 60 or those with weakened immune systems or health conditions remain at home, away from large groups and public places. Every time a resident leaves, they potentially risk their health and the health of others upon returning.
Private caregivers are still allowed to provide services for residents and may enter through security, complete the health screening and get their temperature taken before entry. It is critical to mitigating the possible spread of the virus. We are screening all team members and vendors with a temperature check and health screening questionnaire (which includes questions regarding any travel in the last 30 days, individual symptoms and any potential exposure to others with symptoms consistent with flu, COVID-19 or any respiratory illness). For residents who we provide care services, we will check temperatures once per day. We will also be happy to do temperature checks at any time for any resident upon request.
On April 5, 2020, the CDC recommended Americans voluntarily wear nonmedical masks in public to limit Coronavirus transmission. For this reason, we have implemented the policy that The Gatesworth employees, residents, and private employees and companions wear masks whenever in the building, in addition to our current prevention efforts (handwashing, health screenings, temperature screenings, social distancing, etc.).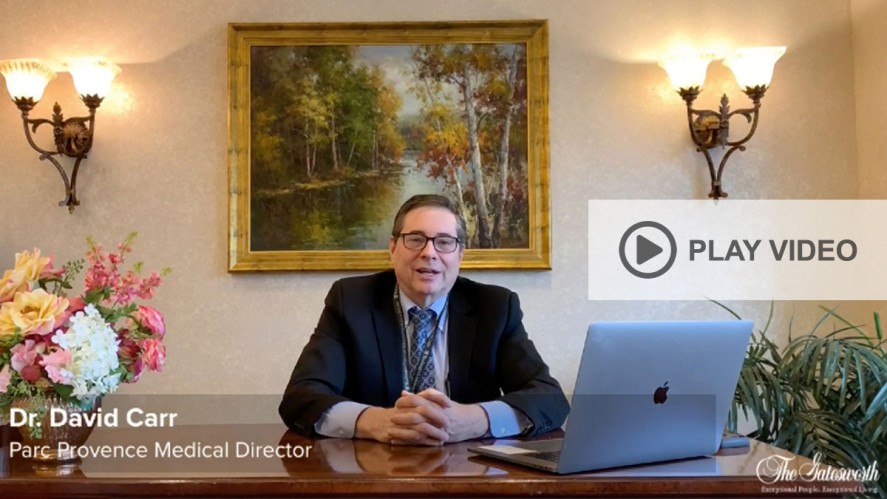 A message from Dr. David Carr, Medical Director at Parc Provence (a sister community of The Gatesworth) and Clinical Director of the Division of Geriatrics and Nutritional Science at Washington University, regarding COVID-19 systems and hygiene techniques.
The following steps are being taken in our community:
Employees continue to complete a health screening questionnaire and have their temperature taken prior to every shift. They will wear masks whenever in the building.
Our team remains focused on frequent enhanced cleaning and sanitizing in all the community common areas.
We are providing complimentary room service to residents.
We are limiting community transportation, but we will continue to transport residents to necessary medical appointments.
We are not providing transportation for shopping trips. We're working with residents on alternative ways to obtain their essentials such as through The Gatesworth's personal shopper. We are also offering assistance with online grocery orders.
We continue to have hand sanitizer available throughout the building.
We continue to train and educate staff about prevention measures.
We are offering to facilitate Skype sessions with residents and their family members.
We are creating alternative games and activities to keep residents engaged while following social distancing.
We have created a special "Care Team" comprised of staff members who make individual calls to residents each week followed up with a kind note.
Our screening area has been re-designed for social distancing and our main and west entrances have been converted to contactless drop stations for grocery and package delivery. Boxes are disinfected before being delivered to resident apartments.
What residents should do:
Continue to practice proper handwashing and social distancing.
Order room service for all meals.
Wear a mask while outside your apartment.
Contact our Personal Care 24/7 with any immediate health concerns and also reach out to your primary care physician with any questions.
What family members should do:
Call, email, write, FaceTime or Skype your loved one. Let us know how we can help.
Communicate with our staff if you or your loved one have any questions, concerns or needs.
Deliver groceries clearly marked with the resident's name and apartment number to our contactless "drop table" at our Main Entrance.
We want to emphasize the importance of residents and families letting us know immediately if they feel ill or think they might have been exposed to COVID-19. We are ready to provide assistance and respond to their needs quickly.
We appreciate your continued support and patience. We intend to be slow and cautious with The Gatesworth reopening to maintain the health and safety of all. Please do not hesitate to contact me with any questions. In the meantime, please remember to wash your hands frequently and practice social distancing.
- Carrie Montrey, Executive Director of The Gatesworth
Additional information concerning COVID-19:
We are closely monitoring the increase in cases of COVID-19. We are following guidelines from the U.S. Centers for Disease Control and Prevention (CDC), St. Louis County Department of Health and Missouri Department of Health & Senior Services (DHSS). Our decisions are based upon their guidance combined with the expertise of our teams. 
We understand this virus is a concern for everyone and our strategy is based on an abundance of caution. We want to be proactive, but also reasonable about any changes made to day-to-day operations.
We are working closely with team members to ensure they do not come to work when sick. While at The Gatesworth, employees will wear face masks. Ongoing education and training are being provided. We ask that residents alert us immediately if they are ill so we can take appropriate action and provide aid.
Health officials agree the best defense techniques are:
Frequent hand washing using proper hand hygiene by scrubbing with warm water for at least 20 seconds. Hand sanitizer is useful but does not replace washing with soap and hot water.
Avoid touching your face and keep your hands away from your nose, mouth and eyes.
Practice social distancing in all situations.
Cover your mouth and nose with a tissue or bent elbow when coughing or sneezing. Discard the tissue immediately and clean your hands.
Please note that all statements and recommendations could change as the government agency recommendations change.
Thank you for your cooperation and understanding.